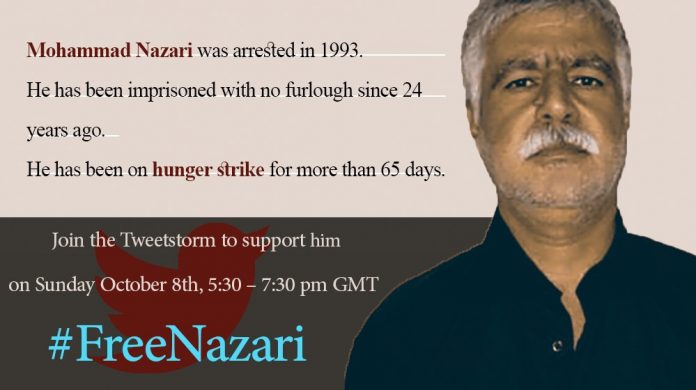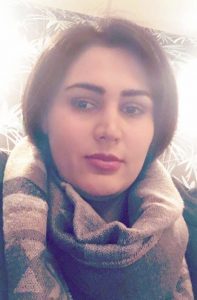 Kurdish political prisoner Mohammad Nazari who was arrested in 1994 by agents of the Abuzar Revolutionary Guards Coprs in Bukan, has been deprived of a prison leave despite serving 24 years of prison and now he is seriously in dangerous of death after 66 days of hunger strike. He wants just his freedom after 24 years if Jail. Now he began his new strike hunger period from 66 days before. Now his physically situation is forced to dangerous of death, and no one is worry about.
While he recovers from the 75-day hunger strike that led to his conditional release from prison. However, his legal battle is far from over because his release order requires him to report back to prison every night.
 "He can hardly stand on his feet or walk. He can't drink even a drop of water. He don't have a decent clinic there and because of that we are worried here what might happen but no one is doing anything about it wherever we complain": An aware source from Rajaii Shahr prison said me about Nazari's situation.
According to the information's from inside the Rajaii Shahr jail, Nazari had lost more than 40 percent of his weight. He can drink nothing and his physically situation is seriously in dangerous of death.
He had experienced also another hunger strike before. Since August 28, 2012, Nazari sewed his lips shut and went on hunger strike to demand a review of his case, but none of his requests, or those by his family, have been taken into consideration by the Judiciary, he told the Campaign.
 "I have spent more than half my life in prison," said Nazari, speaking from Rajaee Shahr Prison, in an exclusive interview with the Campaign for Human Rights in Iran  on January 12, 2017. "That's not a problem; I don't want anything from this regime…I'm not asking for freedom…I just want a permit to go to the hospital."
"Am I doomed to die here like the others?" he added. "What am I supposed to do? We have rights in this country. Where is my file? Is it lost? How can that be? Not even a lunatic could accept this situation."
"I have cervical disc pain in my neck," continued Nazari. "A specialist referred me to the hospital last month, but neither [the Revolutionary Court] in Karaj nor the one in Tehran have responded to my requests [for medical leave]. Even the prison warden wrote a letter on my behalf, but unfortunately nothing has been done. Sometimes my hands and legs go completely limp. The prison clinic doctors really don't know what the problem could be."
"I'm stuck. The judicial officials in (the cities of) Karaj, Tehran and Mahabad all say it's not their problem," added Nazari. "They say they have lost my files, but maybe they're screwing with me."
"I have no one to follow-up on my case," he said. "I've written a thousand letters to every authority you can imagine, but I haven't asked for a pardon because I haven't done anything wrong. I've committed no sin. I haven't robbed anyone or even looked the wrong way at someone's wife. The only thing that has kept me in prison all these years is the state's bias towards my beliefs."
Boukan security forces arrested then-23-year-old Mohammad Nazari, a resident of the town of Shahindej in Western Azerbaijan Province, on May 29, 1994, on charges of membership in the Kurdistan Democratic Party. After three months' detention in the Boukan Intelligence Office Detention Center, he was transferred to Mahabad Prison, where he was put on trial by Branch One of Mahabad Revolutionary Court on charges of "membership in the Kurdistan Democratic Party." Six months later his case was forwarded to Branch One of Orumiyeh Revolutionary Court under Judge Jalilzadeh, and the court sentenced him to death. Despite appealing the decision, his death sentence was upheld.
 Nazari was initially sentenced to death in a court without the presence of a lawyer. His sentence was reduced to life imprisonment in 1999 amid the Islamic festival of Eid Qorban, when the supreme leader, upon the recommendation of the Judiciary, traditionally pardons some prisoners.
Comments
comments