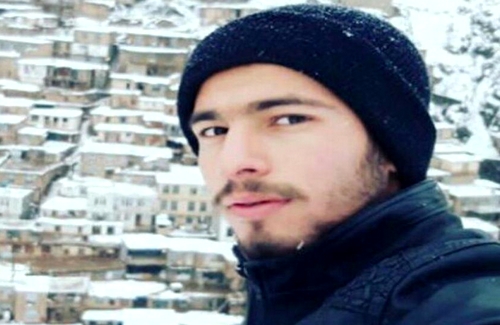 While Iran's human rights organizations have closed their eyes and ears abut the human rights abuses and violence and discriminations in Kurdistan  and other Non-Persian areas, arrestsments are very intense in Kurdistan and Al-Ahwaz.
Roji Kurd: "On 14 ,February,2018,  "Arash Ahmadi"m "19 years old", son of Nasser, from Tangiser village, was arrested by the  Iranian intelligancy agency", according to the report of Kurdistan Human Right Organisation-Rojhelat.
The reason for the arrest of this Kurdish citizen is "membership and cooperation with the opposition parties of the Iranian regime" and "action against national security."
during the arrest of Arash Ahmadi, the Ministry of Iranian Intelligency Agency did not have any legal procedures and permits for arrest,According to the report.
Arash Ahmadi has been transferred to the Information Bureau Prison in Sanandaj.
More Related News:
,On 7 February 2018,''Helmet Forughi'' from "Bevran" village in Sardasht city, was arrested by the Iranian Intelligency agency forces in the Orumieh city and has been transferred to an unidentified place. The main reason for arresting and detention of this Kurdish citizen is unknown indeed, but it has been said "illegal human trafficking across the borders of Iran and Turkey" is his charge, an action that is related to the border guards not Iranian intelligancy agency.
Thursday. 3. February,  "Azad Rostami", from "turaiyūr" Village  located in Sanandaj city has been captured by the Iranian intelligancy agency. According to the report, this Kurdish citizen has been arrested in his private home.– At the same time, "Rashid Azeri", another Kurdish citizen  from Sardasht City, who lives in  village "Bevran Selfi", who he is married and has three children, captured by the Iranian intelligancy agency and has been transfered to an unkonown place. So far, the cause of arrest, location about the transition and status of these citizens, India is unclear.
Ayub azizi" and "Mehdi faraji", tons of citizens of Kurdish people of the city of ravansar in kermanshah province on Thursday 1 February 2018, the forces of the Ministry of information in the city have been captured and an unspecified location and transfer of data. Charge us for the two Kurdish citizen, as well as other detainees last couple of years, "acting against national security through membership in Kurdish parties opposing the Iranian regime," as it has been.
six Kurdish citizens from the village "mirawe" in  zhawe area in sanandaj, by the revolutionary Court of this city, a total of up to 30 years of imprisonment and were sentenced. The charge for this six citizen is "acting against the national security" and "membership in parties, because opposed to the Iranian regime," and "raise the Kurdistan's Flag".The identity of these people include:1 -Sirvan Rostami , Son of Ali Muhammad, 5 years imprisonment2 -Vakil Rostami, son of Mohammad Mirza, 5 years imprisonment

3 -Behrooz Azizi, son of Mohammad, 5 years imprisonment

4 – Rasoul Azizi, son of Ellah Mohammad, 5 years imprisonment

5 -Farman Rostami. Son of Ali, Mohammad, 5 years imprisonment

6 – Ali Kuhi, son of Mohammad Aziz, 5 years imprisonment.
By: Rozhan Adlnia, who is a Kurdish Journalist and Human Right activist in Roji Kurd center and Kurdistan Human Right Organization- Rojhelat.
Comments
comments