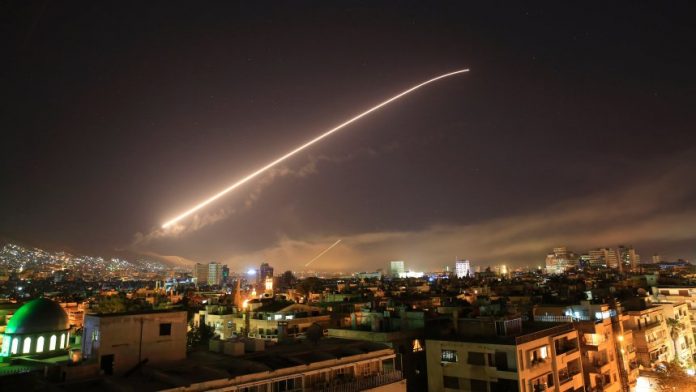 At least three research centers in Damascus and Homs are said to have been hit: The US, along with France and Britain, launched a military strike in Syria.
Roji Kurd: US President Donald Trump announced on Saturday night in a televised speech a joint military strike with France and Britain in Syria. Shortly after his speech, at least six explosions were reported in Syria's capital Damascus.
According to Syrian observers, two scientific research facilities have been hit in Damascus, one in Homs and several military bases. Syrian state television reports that the Syrian military intercepted 13 missiles.
According to the UK Department of Defense, four Royal Air Force aircraft fired at a former missile base about 24 kilometers west of Homs. There are products for chemical warfare agents have been produced.
US Secretary of Defense James Mattis said that no further attacks are currently planned. In his address, Trump said, "We are prepared to continue this response until the Syrian government ends its use of banned chemical weapons."
Both France's head of state, Emmanuel Macron, and Britain's Prime Minister Theresa May emphasized that it was targeted attacks on facilities used by the Syrian regime to produce chemical weapons. Russia was not informed about the targets, said Joseph Dunford, chief of staff of the US military.
Russia's ambassador to the US, Anatoli Antonov, threatened the US with consequences. "Offending Russia's president is unacceptable," he tweeted. "The US, which owns the largest arsenal of chemical weapons, has no moral right to condemn other states."
The military strike was a retaliation for the use of poison gas by the Syrian regime in Duma, which now no doubt can exist, said Trump. "These are not the deeds of a human, they are the crimes of a monster." Even Russia and Iran would have to answer for it: "What kind of nation would want to be associated with the mass murder of innocent men, women and children?"
The US military has already prepared several windows for an attack, including one on Friday night, according to a Wall Street Journal report. Defense Minister James Mattis is said to have canceled it because he was at odds with Trump on the extent of the attack.
According to the report, Trump is said to have been dissatisfied with the rather cautious options presented so far and to have made a strong point not only to beat the Syrian government with a military strike, but also to "pay" Russia and Iran.
Trump shocked the military on Wednesday morning with his war threat via Twitter, then the White House rowed back and Trump tweeted: "I never said when an attack on Syria would take place, could be very soon or not soon!" He had also caused confusion with his own advisors.
Comments
comments