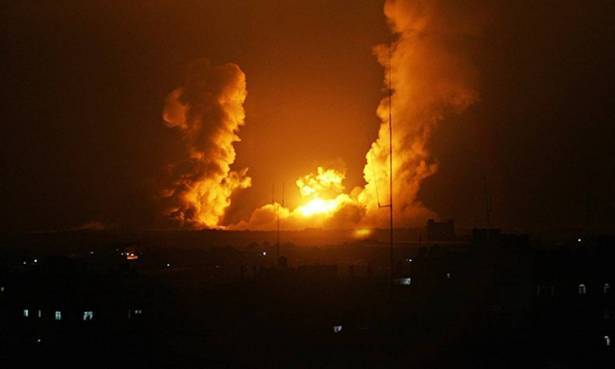 State media says missiles intercepted before reaching targets. Earlier, 12 pro-Assad combatants were reported killed in an alleged U.S. strike.
Roji Kurd: Explosions were heard late Thursday near an airport in Homs in Syria, Syrian state media reported. According to residents in the area, the blasts were heard near the military airport near the city of al-Qasr.
Syrian state media said a military airport was subject to "missile aggression" and was intercepted by air defense system before it reached its target.
Some witnesses in Syria claimed that aircraft flying from Lebanese airspace conducted the strike, following earlier reports of Israeli aircraft being seen above Lebanon.
"One of our military airports in the central region was exposed to a hostile missile attack, and our air defence systems confronted the attack and prevented it from achieving its aim," state news agency SANA said.
British-based war monitor the Syrian Observatory for Human Rights said troops belonging to Hezbollah and other militias allied to Syrian President Bashar Assad are stationed in the Dabaa military airport. It had no information on casualties.
SANA earlier reported sounds of explosions heard near the Dabaa airport, about 20 km (12 miles) southwest of the central Syrian city of Homs and 10 km (6 miles) from the Lebanese border.
Early on Thursday, Syrian state media and a military media unit run by Lebanon's Hezbollah group said that the U.S.-led coalition targeted Syrian army positions in Syria's desert, but U.S. military officials denied any knowledge of the strikes.
The Britain-based Syrian Observatory for Human Rights said at least 12 pro-government fighters were killed in the airstrike. According to the monitoring group, none of the fatalities were Syrian nationals but foreign fighters.
A Syrian source close to the government, meanwhile, said the bombardment struck bases manned by the Iranian Revolutionary Guards allied with the Syrian government.
"Some of our military sites between Albu Kamal and Hamimia were exposed at dawn today to aggression launched by U.S. coalition jets," state news agency SANA reported, citing a military source.
On Sunday, heavy explosions were heard overnight south of Damascus in Syria in an area which holds a security facility used by Iranian forces, Sky News in Arabic reported.
The alleged blasts came days after explosions were heard near Hama airport in Syria last week. The U.K-based Syrian Observatory for Human Rights group said the series of explosions were near Hama's military airport and had been heard in Hama city, killing at least 11 government soldiers and allied fighters. According to reports, the explosions went off in fuel and arms depots.
Last month, the Israeli military targeted an advanced Iranian air-defense system at the T4 base in Syria and not just attack drone deployment, the Wall Street Journal reported.
The report noted that Prime Minister Benjamin Netanyahu ordered the strike after conferring with U.S. President Donald Trump, in hopes of preventing Iran from using the anti-aircraft battery against Israeli jets carrying out strikes in Syria.
The April 9 strike killed seven Iranian military personnel at a Syrian airbase. Iran blamed Israel and vowed to retaliate
Comments
comments