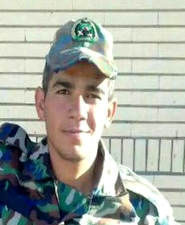 The mass arrests of Kurdish citizens continue in various cities. These arrests have continued steadily over the past three years. In the past few days, 20 Kurdish citizens have been arrested following a protest and a strike by business and marketers and four others have been arrested in Kermanshah recently.
Roji Kurd: The four Kurdish citizens, all members of a family, were detention and arrested by security forces Karmashan city and after the onslaught of these forces,Mirofayeti.
The identity of these four Kurd citizens from Javanmiri village, Kermanshan functions is"kamal Javanmiri,"Elham Javanmiri","Turan Mirzaee" and "Iraj Javanmiri" who are all members of a family. Turan is the mother of three other arrested,the Kurdpa news agency.
Before the arrest and attack on their personal home, these four Kurd citizens Kamal Javanmiri the son of the family, were summoned and arrested by the Iranian Intelligency Agency of Kermanshan city,after which the security forces raided his home, and his mother and brother and sister detention and arrested,according to the report.
Kamal Javanmiri is currently military service and has returned home to permission which he faced with arrested and detention.
"Kamal Javanmiri"a photo of his brother, who is a member of one of the opposition parties of the Iranian regime has been in his mobile,the reason for this family arrest is likely to be related to this photo.
By: Rozhan Adlnia
Comments
comments