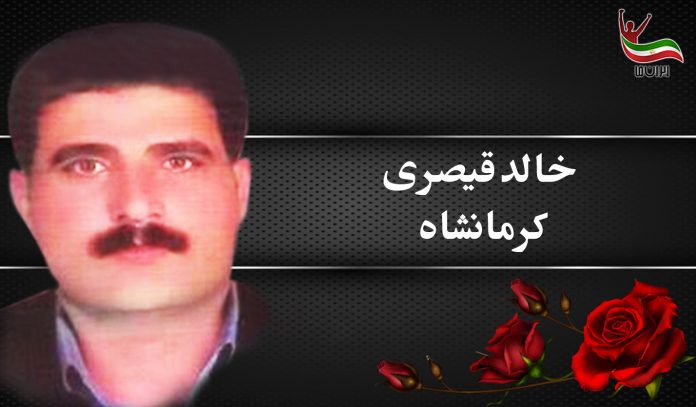 The number of demonstrators killed in custody is on the rise amid violent crackdown on anti-government protests. A  Kurdish man from Kermashan had also died as the result of torture in the jail.
Roji Kurd: According to the report published by the testimony, confession, and  Human Rights Activists in Iranian Kurdistan, "KHaled GHeysari", a Kurdish citizen  from Kermashan,which just a few days after the anti regime protests in  Iran and Kurdistan, has been capturde by the  Iranian intelligancy agency forcess, has been killed on Saturday 27 January 2018, in the central prison of this city, under the torture of lost his Life.
The family of this Kurdish citizen, have proved their child's death in the prison of Kermanshah.
According to an informed source, Iranian forces claimed that he has died because oconsumption of drugs.
This informed source also rejected claims the forces of information, said the death of this Kurdish citizen, said that he was over twenty days ago, arrested and been in prison.
The news source adds: the funeral of KHaled GHeysari, with the presence of parents and a number of the forces of intelligence in the graveyard, kermanshah buried and intelligence forces on Thursday 1 February 2018 his corpse to his family have delivered.
Related news for more informations:
According to a report from the Kurdistan-Rojhelat Human Rights Organization, Saro Ghahremani, 24, from Sanandaj, who was arrested during wide spread Iran protests is tortured to death.
After Sari Ghahremani's disappearance, there was no information about his whereabout for 11 days, despite his relatives efforts to get some news about him.
However on Friday evening, January 12th, his mother was contacted by the Sanandaj's Ministry of Intelligence and told to collect his body from the mortuary.
He was buried on Saturday morning 13 January 2018, in Behesht Mohammadi Cemetery in Sanandaj.
In the city of Ghahdrijan, in Isfahan province, 6 people have lost their lives during the protests. This figure has been confirmed by Iran's News Network.
Three people have been killed in the city of Shahinshahr, this news has been also declared by the Iran's News Network.
In the city of Doroud, in Lorestan province, the number of deaths is believed to be four. We have received the names of three of the victims: Hamza Lashni Zand, Hossein Rashvnow and Amir Hossein Papi.
Two people have been reported killed in the city of Izeh, in Ahvaz, where one of the victims has been announced to be Massoud Kiani Ghalefrardi.
Also, in Khomeini Shahr city, in Isfahan province, 2 people lost their lives, which they have been identified as Armin Sadiqi and Shayan.
On Monday, 1st January 2018, in Kermanshah province, one person was killed, which has been identified as Behzad Shaswari.
 On Sunday, 31st December 2017 in the City of Joiabad in Khomain city, Nehmatollah Salehi Has been killed by the Iranian regime forces.
After several days of deadly protests, world voices concern, as the Islamic Republic of Iran widens brutal crackdown on protesters. US, Germany, France, Britain and the European Union and have already warned Iran.
These countries along with several internationally known human rights organizations have urged Iran to uphold its international human rights obligations, refrain from violence and respect the right of peaceful protest.
Rozhan Adilnia
Comments
comments