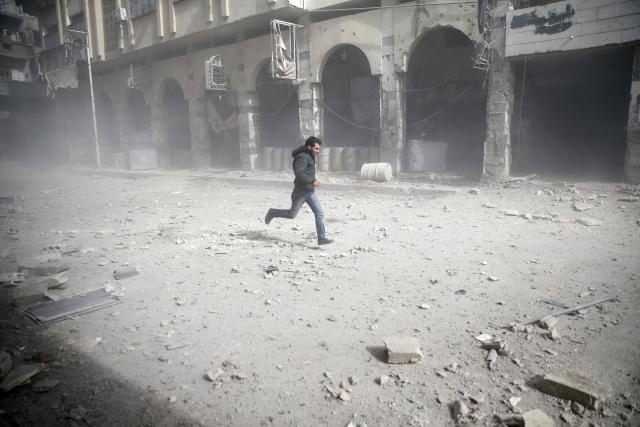 The United Nations called on Tuesday for an immediate humanitarian ceasefire in Syria of at least a month, as heavy air strikes were reported to have killed dozens of people in the last major rebel stronghold near Damascus.
Roji Kurd: Separately, U.N. war crimes experts said they were investigating several reports of bombs allegedly containing chlorine gas being used against civilians in the rebel-held towns of Saraqeb in the northwestern province of Idlib and Douma in the Eastern Ghouta suburbs of Damascus.
The Syrian government denies using chemical weapons.
The Syrian Observatory for Human Rights said Tuesday's bombardment of Eastern Ghouta had killed at least 47 people. A local official, Khalil Aybour, put the toll at 53.
On Monday, air strikes killed 30 people in Eastern Ghouta, the Observatory said.
In a statement, Paulo Pinheiro, head of the International Commission of Inquiry on Syria, said an ongoing Syrian government siege of Eastern Ghouta "involve(s) the international crimes of indiscriminate bombardment and deliberate starvation of the civilian population".
"Today there is no safe area at all. This is a key point people should know: there is no safe space," Siraj Mahmoud, the head of the Civil Defence rescue service in opposition-held rural Damascus, told Reuters.
"Right now, we have people under rubble, the targeting is ongoing, warplanes on residential neighborhoods."
Insurgent shelling of government-held Damascus killed three people, the Observatory and Syrian state media reported.
Air strikes also killed at least six people in rebel-held Idlib including five in Tarmala village, the Observatory said.
U.N. officials in Syria called for fighting to stop to enable aid deliveries and the evacuation of sick and wounded, listing seven areas of concern including northern Syria's Kurdish-led Afrin region, being targeted by a Turkish offensive.
In a statement, the UN representatives noted that humanitarian needs were rising in Eastern Ghouta, where people had not received inter-agency assistance since late November.
"Meanwhile, fighting and retaliatory shelling from all parties are impacting civilians in this region and Damascus, causing scores of deaths and injuries," said their statement, released before the latest casualty tolls emerged on Tuesday.
"In Idlib, the military operations resulted in increased casualties and movement of civilians to safer areas. Some of them have been forced to move several times to escape fighting," they said, noting that two pro-government villages in Idlib also continued to be besieged by rebels.
"For the last two months we have not had a single (aid-delivery) convoy. This is really outrageous," said Panos Moumtzis, assistant U.N. secretary general and regional humanitarian coordinator for the Syria Crisis.
 Syrian President Bashar al-Assad, helped by Iranian-backed militias and the Russian air force, is pursuing military campaigns against insurgents in the last major pockets of territory held by his opponents in western Syria.
There were air strikes on towns across the Eastern Ghouta, including Douma where an entire building was brought down, a local witness said. In Idlib, where government forces and their allies are also on the offensive, at least five people were killed in the village of Tarmala, the Observatory said.
Comments
comments