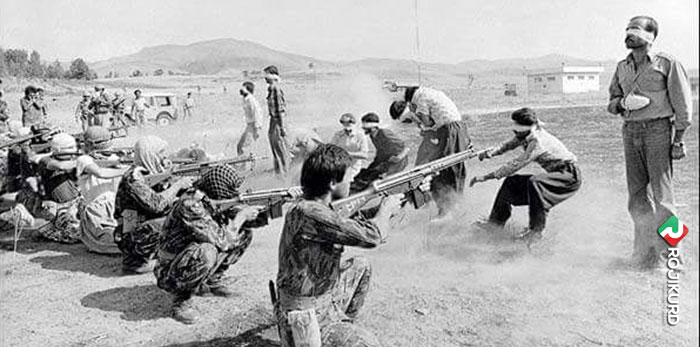 As continue of the war policy of Islamic Republic of Iran on June 2nd 1983, the regime executed 59 innocent people in city of Mahabad, whose only crime was to be Kurds. Since establishment of Islamic republic as the result of Ayatollah Khomeini's Jihad (holy war) declaration against Kurdish people, the regime has continued its massive military, economic, cultural, social, psychological war against Kurdish people to date. As the result hundreds of Kurdish villages were destroyed in the first ten years of the Islamic republic war against Kurdish people. After that the regime started to expand systematic narcotics, drugs within young people. Kurdish people by different mechanism are prevented of creating local production and economical growth. The environment of Kurdistan is destroyed by militarizing all villages and cities. Kurds are behaved as occupied people whose basic right are always in the hand of local military forces. There more militias and solders in Kurdistan than teachers and medicine doctors in total.
In June 2, 1983 in just few minutes these people were killed with no defense, and no chance to appeal for pardon. Some of them were under 18 year old children. They were not given to write their testaments for their families:
1. Abbas Hosseinpour
2. Abbas Yousefi
3. Abdollah Tahriyan
4. Aboubakr Shokri
5. Ahmad Kahroubi
6. Ali Abade
7. Ali Baneiyan
8. Ali Baziyan
9. Ali Ghaware
10. Ali Golparast
11. Ali Mazna
12. Ali Salahi
13. Feridoun Shanga
14. Gholamreza Barezi
15. Hamed Mahmoud Kando
16. Hasan Jahani
17. Hasan Rahmanian
18. Hejar Karimi
19. Homayon Niloufari
20. Hossein Kalhori
21. Ibrahim Amini
22. Inshallah Naderi
23. Kamal Chawshini
24. Kamal Karimi
25. Kamran Zaher Hejazi
26. Karim Kaveh
27. Karim Rahimian
28. Kazem Khatooni
29. Khaled Rahim Azar
30. Khaled Safayi
31. Khalegh Barzani
32. Khezer Rangin
33. Maghsoud Mahmoudi
34. Mahmoud Rizeyi
35. Mansour Janah
36. Mohamad Farough Baziar
37. Mohammad Aboubakri
38. Mohammad Amin ahmadi
39. Mohammad Hosseini
40. Mohammad Mashoodi
41. Mohammad Olyayi
42. Mohammad Salimi
43. Mohamman Amin Safa
44. Molla Hasan Lajavardi
45. Mostafa Faghri
46. Mostafa Ismati
47. Rahman Khezerpour
48. Rahman Rahimi
49. Saleh Farhoudi
50. Saleh Mam Ibrahimi
51. Seyed Ibrahim Ahmadi
52. Seyed Mahmoud Seyed Mahmoudi
53. Shokri Naderi
54. Siyamak Saghezi
55. Soleiman Hasanzadeh
56. Vafa Elyasi
57. Yousef Ayazi
58. Yousef Habibpanah
59. Yousef Hasanzadeh
This is just a tip of the iceberg of Islamic republic crime against Kurdish people in Iran. Every Kurdish person in Iran has a story of repression, losing a member of family, being humiliated, terrorized, and blackmailed and experiencing of being second class citizen in her/his own home land.
Comments
comments