DIYARBAKIR, Turkey – Turkish police arrested at least 25 people on Wednesday, among them politicians, in the Kurdish city of Diyarbakir during protests in response to the overnight arrests of the co-mayors of the city's Metropolitan Municipality, Gultan Kisanak and Firat Anli.
Police used high-pressure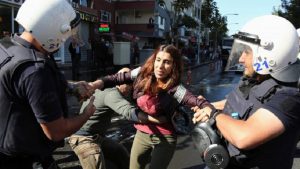 water to disperse a large crowd of people and politicians, including the co-chair of the Democratic Regions Party (DBP) Sebahat Tuncel who gathered in front of the Municipality.
Among the arrested was Ayla Akat Ata, a former Peoples' Democratic Party (HDP) MP for the city of Batman.
The Ezidi Kurdish MP Feleknas Uca who represents a Diyarbakir constituency at the Turkish Parliament was dragged on the ground by the police.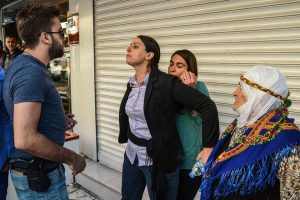 The HDP and the DBP to which Anli and Kisanak belong called for protests all over the Kurdish Region and Turkey after the arrest of the co-mayors who the Turkish authorities accuse of terror-related charges for remarks on Kurdish self-rule.
The Governor's Office of Diyarbakir announced a ban on all public gatherings, assemblies, walks and protests shortly after the arrests in an online statement on its website, citing a state of emergency decree that empowered the bureaucracy, police and the judiciary.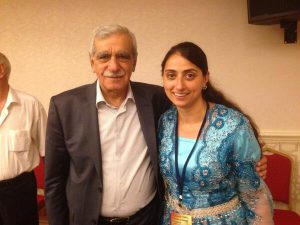 The Public Prosecutor in Diyarbakir put an injunction in the afternoon on the lawyers of Kisanak and Anli to prevent them from meeting with their clients while in detention, said the private-owned Dogan news agency.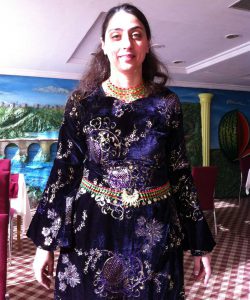 INTERNET SHUT DOWN
Meanwhile all Internet services in the Kurdish majority provinces of Diyarbakır, Mardin, Batman, Siirt, Van, Elazig, Dersim (Tunceli), Gaziantep,Sanlifurfa, Kilis and Adiyaman were shut down since the morning hours.
It was not immediately clear why the Internet services were off or whether it was related to the arrests of high-profile politicians in the Kurdish region.
Earlier in September when the Turkish Interior Ministry seized the administration of 24 Kurdish-run municipalities the Internet services were cut for a whole day with no explanation from the officials.
Editing by Tahîr Qerexan
Comments
comments