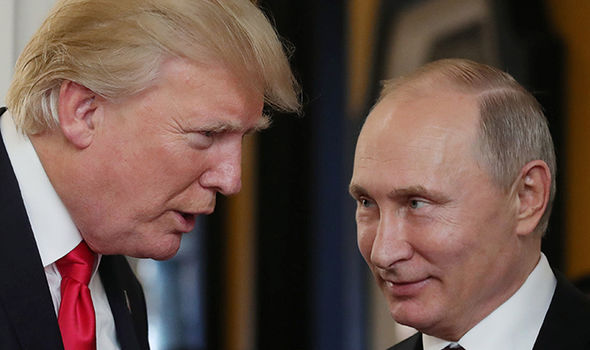 President Trump on Friday night announced he has directed the U.S. military to conduct precision strikes in Syria, in response to the chemical weapons attack that left dozens dead on Sunday.
Roji Kurd: "A short time ago, I ordered the U.S. Armed Forces to launch precision strikes on targets associated with the chemical weapons capabilities of Syrian dictator, Bashar al-Assad," the president said from the White House.
"A combined operation with the armed forces of France and the United Kingdom is now under way," he continued.
Mr. Trump claimed the U.S. is "prepared to sustain" a response to curtail Syria until the Syrian regime stops using chemical weapons on its citizens, meaning this might not be the last use of military capabilities in Syria.
The president also called out Iran and Russia, saying Syria would not have been able to carry out such an action if Russia had been a responsible nation. Russia has pledged to retaliate if the U.S. strikes Syria.
"To Iran and Russia I ask, what kind of nation wants to be associated with the mass murder of innocent men, women and children?" Mr. Trump said. "The nations of the world can be judged by the fiends they keep."
The president's announcement comes shortly after he said he hopes and intends to pull out of Syria soon, before this latest chemical attack.
The president's announcement comes one year after he announced strikes in Syria following a separate chemical weapons attack. The White House had kept a tight lid on the military action ahead of Friday night, and hours before the strikes were directed, said no final plans had been made. Shortly before Mr. Trump's announcement, Vice President Mike Pence, who is in South America, was hurriedly rushed back to his motorcade and hotel with no explanation, fueling speculation that something could be hapepning with Syria.
The U.S. president had sharply critical words for both Russia and Iran, which have backed Assad's government.
"To Iran and to Russia, I ask, what kind of a nation wants to be associated with the mass murder of innocent men, women and children?" Trump said.
British Prime Minister Theresa May said she had authorized British armed forces "to conduct co-ordinated and targeted strikes to degrade the Syrian regime's chemical weapons capability."
The military action is not about intervening in Syria's civil war or changing its government, she said.
There are roughly 2,000 U.S. troops on the ground in Syria as of the last numbers the Pentagon released. But Mr. Trump insisted Friday night the U.S. does not intend to have a permanent presence in Syria.
Mr. Trump took no questions. The Pentagon is expected to give additional updates at 10 p.m.
Mr. Trump described a very specific type of target that the U.S. would go after, which are Syria's chemical weapon capabilities. That could be everything from aircraft that dropped chemical weapons to the headquarters that control the forces that drop the chemical weapons, CBS News national security correspondent David Martin reports.
Comments
comments