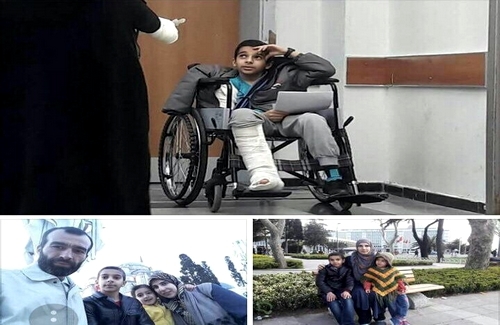 13-years-old and 5-years-old,two children family of a political Kurdish refugee has arrested by Tabriz airport security.
Roji Kurd: On Tuesday 6,March,2018,the family members of "Barzan Farooqi"a Kurdish refugee from Saqez city including his 13-year-old son,"Mohammad Farooqi""and his 5-year-old daughter,"Ala Farooqi", were arrested by Tabriz airport security and their fate is unclear until now,Kurdistan Human Right Organization-Rojhelat,reportedly.
The woman and children of this Kurdish political refugee,had sought to return to the Saqez city for visit relatives
before the start of the celebration ancient and Nowruz national celebrations,according to the report.
Are concerned about the security of their spouse and children of this refugee according to past records of the arrest and detention of Kurdish activists and refugees in Iran,Iranian Kurdistan Human Rights activists.
24-year-old in 2017 a Kurdish refugee from Ravensar city a resident of Finland,who returned to Iran after six years of asylum, was killed under torture at the Iranian intelligancy agency in Karaj.
He was tortured for about 2 months Iranian Intelligency Agency detention center.
By: Rozhan Adlnia
Comments
comments