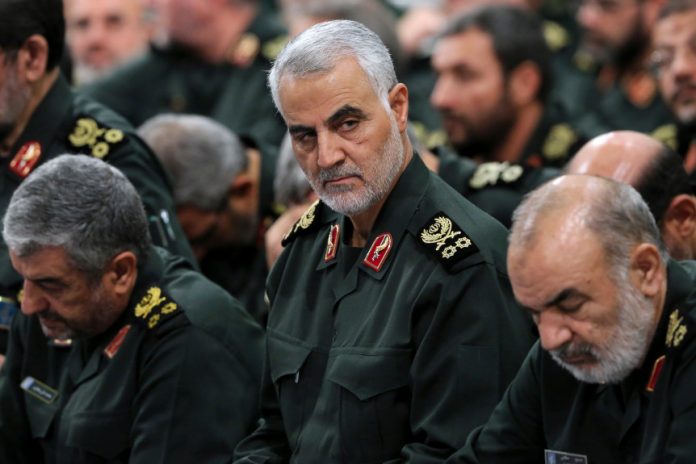 Iran's paramilitary Revolutionary Guard faces new sanctions from U.S. President Donald Trump as he accuses the country of violating the spirit of the 2015 nuclear deal between Tehran and world powers. But what is this organization?
Born in revolution
The Guard formed out of Iran's 1979 Islamic Revolution as a force meant to protect its Shiite-cleric-overseen government and later enshrined in its constitution. It operated parallel to the country's regular armed forces, growing in prominence and power during a long and ruinous war with Iraq in the 1980s. Though facing possible disbandment after the war, Supreme Leader Ayatollah Ali Khamenei allowed it to thrive, granting it powers to expand into private enterprise. The Guard answers only to Iran's supreme leader.
Wars abroad
One of the main reasons the U.S. is targeting the Guard is its expeditionary Quds — or Jerusalem — Force. That force is headed by Gen. Qassem Soleimani, who has risen to prominence by advising forces fighting the Islamic State group in Iraq and in Syria on behalf of embattled Syrian President Bashar Assad. U.S. officials say the Guard under Soleimani taught Iraqi militants how to manufacture and use especially deadly roadside bombs against U.S. troops after the 2003 invasion of Iraq. Iran has denied that. Soleimani himself remains popular among many Iranians, who see him as a selfless hero fighting Iran's enemies abroad.
Tense naval encounters
The U.S. Navy regularly has direct, tense encounters with Revolutionary Guard vessels in the Persian Gulf and the Strait of Hormuz, the narrow waterway at the Gulf's mouth through which a third of all oil traded by sea passes. Its speedboats race alongside U.S. aircraft carriers, while it also has flown drones over U.S. warships and near U.S. fighter jets. Those encounters have stepped up since the 2015 nuclear deal, a direct sign of hard-liners' displeasure over any warming ties with the West. Iran has more than 1,240 miles of shoreline facing the Gulf and the Sea of Oman.
Ballistic missiles
The Guard oversees Iran's ballistic missile program and has conducted several tests since the nuclear deal. While the atomic accord does not specifically stop those tests, U.S. officials have said they violate the spirit of the deal. The missiles can reach Israel, an American ally in the region. In March 2016, the Guard launched a ballistic missile bearing the words "Israel must be wiped out" in Hebrew. Iranian President Hassan Rouhani criticized the Guard over such missile launches during his re-election campaign this year, but has since embraced the group.
Dual nationals targeted
The Guard also operates its own intelligence services and has been behind a series of arrests and convictions of dual nationals and those with Western ties on espionage charges in closed hearings. The United Nations recently criticized Iran over the detentions, calling it an "emerging pattern" since the nuclear deal.
By Jon Gambrell | Associated Press
Comments
comments