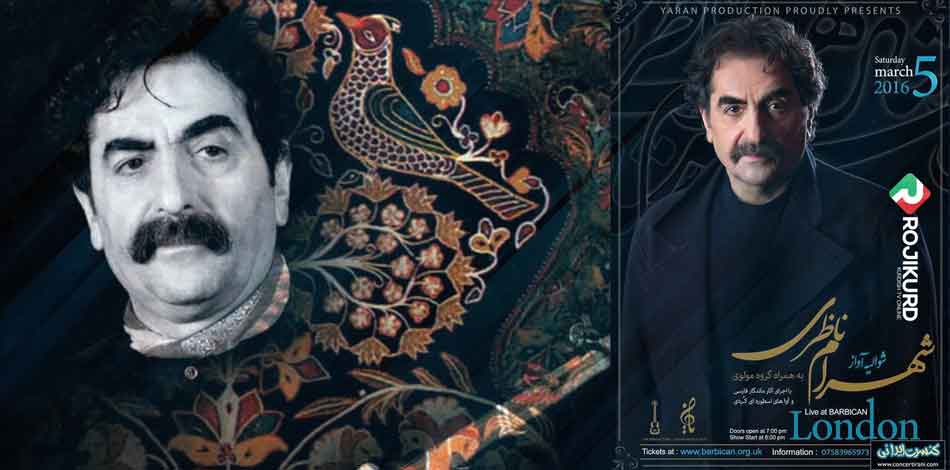 Shahram Nazeri – The Knight of the Voice
5 March 2016 / 20:00
Hall
The Iranian tenor performs music from across his 35 year career – bringing together sacred Sufi poetry with classical Iranian music.
Carefully controlled, yet brimming with raw emotion, Nazeri's performance is versatile, seeing him perform with full orchestras and choirs as well as intimate small ensembles. For this concert he returns to his roots, backed by his band of traditional Iranian instruments, their flowing strings rising and falling, a pulsing force behind his rich vocal tones.
The first performer to set the poetry of Islamic scholar and Sufi mystic Rumi to traditional Persian music, creating a beautiful unison of the two that opened up the eyes and ears to Rumi's poetry, Nazeri's striking tenor voice portrays the range of emotions in Sufi poetry as almost no-one else can.
Shahram Nazeri (in Kurdish شارام نازری, Persian شهرام ناظری; born 1951) is a contemporary Iranian tenor from Kermanshah who sings classical. He has been accompanied by some of the authorities of Iranian traditional music such as Jalil Shahnaz, Alizadeh, Jalal Zolfonoun and Payvar. He often works with his son Hafez Nazeri, a composer.
Born in a Kurdish family[citation needed], he was the first vocalist to set Rumi's poetry to Persian music thirty-five years ago, thus establishing a tradition of Sufi music within both Persian classical music and Kurdish music and his music was instrumental in introducing Western musical audiences to both Sufism and to the poetry of Rumi. The New York Times has dubbed him the "Persian Nightingale" and the Christian Science Monitor has called him "Iran's Pavarotti". Most recently he was awarded with Chevalier des Arts et Lettres medal from The government of France for his lifetime achievements in Iranian traditional music. Also Asia Society has awarded him by Lifetime Cultural Heritage Award. Master Nazeri has released over forty recordings to date; His "The One Hundred Leaf Flower" (Gol'eh Sad Barg) recording has held the record for the highest selling album of Persian classical music and Sufi music in the history. His musical talents were first nurtured by his mother at a very young age. Throughout his childhood, he was under the tutelage of the most renowned masters of Persian music including Abdollah Davami, Nourali Boroumand, and Mahmood Karimi. At eleven, he performed on television for the first time. By twenty-nine, he had gained a loyal fan base. He has continued to perform in Iran and abroad over the course of the last two decades. He has performed at major venues worldwide, including The Festival of Aix-en-Provence, The festival of Avignon, Theâtre de la Ville in Paris, The Tokyo Summer festival, The Kodak Theatre (Oscar ceremony) in Los Angeles, and the Royal Albert Hall, the Festa delPopolo in Italy, The Beiteddine Festival in Lebanon, the Kölner Philharmonic in Germany, Asia Society, World Music Instituted and Brooklyn Academy of Music BAM in New York, the Roma Europa Festival in Rome, São Paulo Music Festival in Brazil and Fes Festival of World Sacred Music in Morocco and many others.[citation needed] From early on, Master Nazeri began to sing and compose music to the works of Mawlana Jalal ad-Din Rumi, Iran's most cherished Sufi poet. Nazeri was also pioneering in assimilating contemporary Persian poetry into the classical repertoire. His progressive approach to music has led to collaborative new projects with his son, Composer and singer Hafez Nazeri. In year 2000 they performed Hafez's new composition in Iran which has hold the record for the most highly attended concert 140.000 in entire Middle East. In year 05/06 Master Nazeri along with his son's new Rumi ensemble launched "In the Path of Rumi," a highly successful North American tour which performed record-breaking sold-out concerts, to rave reviews. The venues, included Los Angeles' Kodak theater (12/11/05), – the most highly attended Persian classical music concert outside of Iran.
Comments
comments