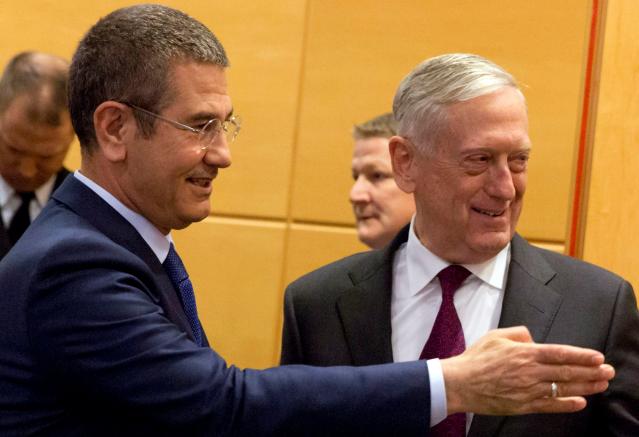 Turkey said on Thursday it had demanded that the United States expel a Kurdish militia from the ground forces it backs in Syria, underscoring the widening gulf between the NATO allies since Ankara launched a new Syrian offensive last month.
Roji Kurd: Ties between Turkey and the United States, both allies in a U.S.-led coalition fighting against Islamic State, have been strained to the breaking point by Washington's support for the Syrian Kurdish YPG militia, which Ankara sees as terrorists.
Speaking with reporters on the sidelines of the NATO meeting, Mattis said his talks with his Turkish counterpart were open and honest, but acknowledged the differences.
"I believe we are finding common ground and there are areas of uncommon ground, where sometimes war just gives you bad alternatives to choose from…. We continue to collaborate on ways to ensure their legitimate concerns are addressed."
The issue is expected to dominate a visit to Turkey by U.S. Secretary of State Rex Tillerson on Thursday and Friday at a time when relations between Washington and Ankara are fraying over a range of other issues as well.
Turkey launched an air and ground operation in northwest Syria's Afrin region to drive the YPG from its southern border.
Ankara considers the YPG to be an arm of the PKK, a banned group that has waged a decades-long insurgency in Turkey. The YPG is the main ground element of the Syrian Defence Forces (SDF), which the United States has armed, trained and aided with air support and special forces to fight Islamic State.
"We demanded this relationship be ended, I mean we want them to end all the support given to the Syrian arm of PKK, the YPG," Turkish Defence Minister Nurettin Canikli told reporters in a briefing in Brussels, a day after meeting U.S. Defense Secretary Jim Mattis on the sidelines of a NATO meeting.
"We demanded this structure be removed from SDF," he said.
Comments
comments