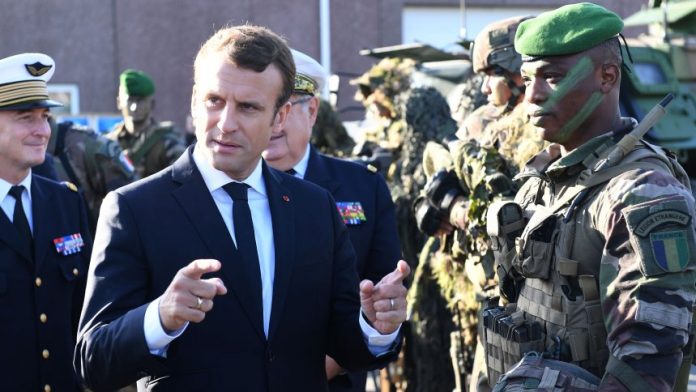 French President Macron believes that an attack on chemical weapons in Syria is possible. A decision will be made shortly. The US has dispatched a destroyer to the region.
Roji Kurd: In the case of a French military strike against Syria, according to the government in Paris, the chemical weapons of the Syrian regime would be the target. According to President Emmanuel Macron, attacks on "chemical capabilities" are possible.
Macron said after a meeting with Saudi Crown Prince Mohammed bin Salman in Paris that no one would attack the allies of the Syrian government, Russian or Iranian units. France wants "no escalation".
The decision on an attack in Syria will be announced "in the next few days". Following the suspected poison gas attack in the Syrian city of Duma, which killed at least 150 people, France is exchanging with partners – notably the US and Britain.
Earlier, US President Donald Trump had phoned British Prime Minister Theresa May. The White House said afterwards that both agree not to allow another chemical weapons deployment in Syria.
The Saudi Crown Prince also made it clear in Paris that his country was ready to participate in a possibly concerted crackdown on the Syrian government.
At present, there is speculation about a possible retaliatory attack by the US and its allies, especially France, on alleged use of poison gas in the rebel stronghold Duma in Syria. Trump briefly canceled a trip to Latin America to take care of the situation in Syria, according to the White House. His defense minister Jim Mattis also canceled scheduled dates for the weekend.
The US missile destroyer "USS Donald Cook" has meanwhile arrived in an area from which he could reach Syria.
The European Aviation Safety Agency (EASA) has issued a notification to airplanes for the airspace of the eastern Mediterranean, in the area around Cyprus. It warns of possible air strikes in Syria with air-to-ground missiles and so-called cruise missiles in the next 72 hours. There is a possibility that the navigation in this area could be disturbed.
Comments
comments