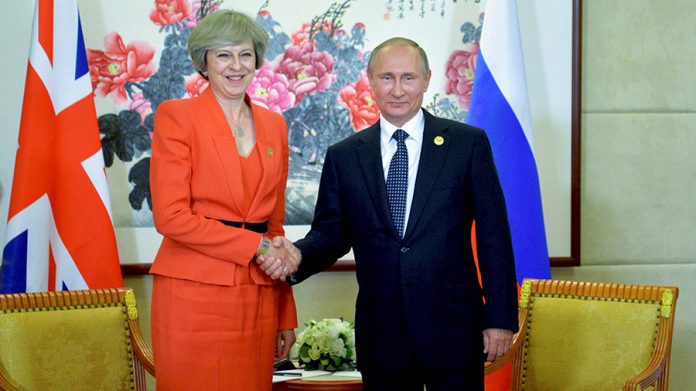 The UK plans to spend £100 million over five years to counter what it calls a Russian "disinformation" campaign, Downing Street has said, releasing key points of PM Theresa May's Eastern Partnership summit speech where she plans to fully outline her anti-Russia strategy.
Roji Kurd: Delegations from EU member states and representatives of six Eastern European countries are scheduled to convene for the 5th Eastern Partnership (EaP) summit in Brussels Friday. Britain, which is leaving the EU in March 2019, is sketching its plan for Eastern Europe – a vision that is firmly focused on countering Russian influence in the region.
While the summit is concerned with tackling corruption and fostering economic growth in Georgia, Ukraine, Moldova, Belarus, Azerbaijan, and Armenia, May aims to "welcome the unified approach to tackle threats and attempts of destabilization from other foreign powers like Russia," Downing Street said in a statement.
Apart from reaffirming UK support to the region, London plans to pledge £50 million to fund "reform and security" in respective partner nations. The UK government is also willing to spend £100m over five years to "counter disinformation" in what it called the "Eastern Neighborhood."
Although details of May's plans to counter Russia in the former Soviet Union republics have not been made public, London appears to be extremely motivated to lead the anti-Russian crusade in Europe, despite its Brexit blues.
"The UK may be leaving the EU but we are not leaving Europe, and we are unconditionally committed to maintaining Europe's security," May is expected to tell the delegates at the summit according to excerpts of her prepared speech released by her office. "We must also be open-eyed to the actions of hostile states like Russia which threaten this potential and attempt to tear our collective strength apart."
May's personal campaign against Moscow is seemingly gaining pace. Just last week, the British PM named Russia as the top threat to European democracy and security. Russia is "threatening the international order on which we all depend," May claimed. She alleged further, without any evidence, that Moscow has been doing so by "meddling in elections and hacking the Danish Ministry of Defense and the Bundestag [the German parliament] among many others."
READ MORE: Can Russia sleep easy now that fallen Fallon is no longer banging the drum for war?
Russia has consistently denied tinkering in the affairs of other sovereign nations. Furthermore, it views any baseless accusations against Moscow or Russian media outlets, such as RT and Sputnik, as an orchestrated misinformation campaign triggered by the rampant anti-Russian hysteria which was sparked by the US presidential election result last year.
May further distanced rhetoric from fact when she stated that Moscow "will not succeed" in whatever it is doing and should not underestimate the stability and what she termed "the enduring attraction" of western society. In response to May's torrent of "ideological clichés," the head of Russia's Federation Council Committee on Foreign Affairs, Konstantin Kosachev, said her "mistake is that this conflict is not ideological and there will be no 'triumph of Western values' this time, as no one is fighting them here."
Comments
comments