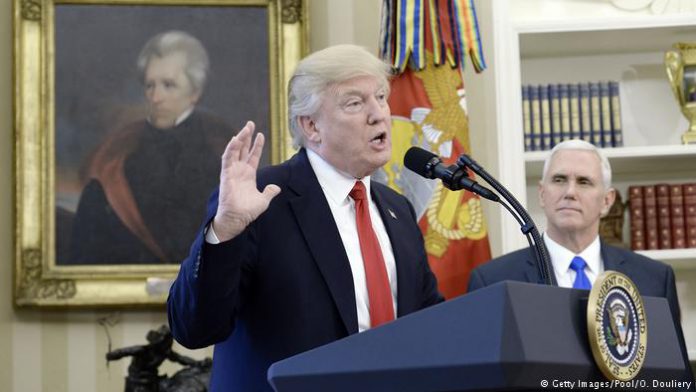 Roji kUrd: President Donald Trump put North Korea back on a list of state sponsors of terrorism on Monday, a designation that allows the United States to impose more sanctions and risks inflaming tensions over Pyongyang's nuclear weapons and missile programs.
The US President said the designation will impose further penalties on Kim Jong-un's regime, saying it was a long-overdue step and part of a "maximum pressure campaign" against the North.
The Republican president, who has traded personal insults with North Korean leader Kim Jong Un but has not ruled out talks, said the Treasury Department will announce additional sanctions against North Korea on Tuesday.
The designation came a week after Trump returned from a 12-day, five-nation trip to Asia in which he made containing North Korea's nuclear ambitions a centerpiece of his discussions.
Mr Trump told reporters on Monday that the decision "should have happened years ago", and called Pyongyang "a murderous regime". He added that North Korea "must end its unlawful nuclear and ballistic missile development", as well as its support for international terrorism.
US officials said the action was partly motivated by the killing of Mr Kim's estranged half brother in a Malaysian airport this year, which was defined as an act of terrorism.
Secretary of State Rex Tillerson referred to the move as part of the "peaceful pressure" campaign, noting it was in line with Mr Trump's "maximum pressure" programme to get countries like Malaysia, Vietnam, Philippines, Singapore, and South Sudan to cut off Pyongyang financially as well. All countries have agreed to do so in recent weeks.
Trump, who has often criticized his predecessors' policies toward Pyongyang, said the designation should have been made "a long time ago."
North Korea is pursuing nuclear weapons and missile programs in defiance of U.N. Security Council sanctions and has made no secret of its plans to develop a nuclear-tipped missile capable of hitting the U.S. mainland. It has fired two missiles over Japan and on Sept. 3 fired its sixth and largest nuclear test.
South Korea's spy agency said on Monday the North may conduct additional missile tests this year to improve its long-range missile technology and ramp up the threat against the United States.
Experts say the designation will be largely symbolic as North Korea is already heavily sanctioned by the United States, a reality that Secretary of State Rex Tillerson seemed to acknowledged while s
Comments
comments