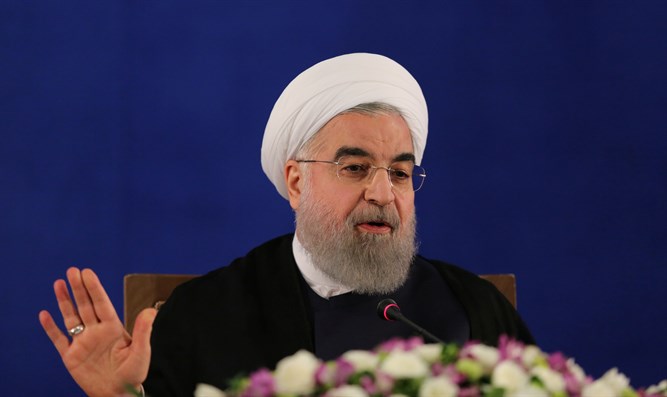 Iranian President Hassan Rouhani rejected a request by U.S. President Donald Trump for face-to-face talks on the sidelines of the UN General Assembly in New York last month, Iranian officials claimed on Sunday.
"U.S. President Trump invited President Rouhani to a face-to-face meeting during Mr. Rouhani's visit to New York to participate in the UN annual conference in September but our president turned down the offer," a senior Iranian official, Mahdi Faza'eli, claimed, according to semiofficial Iranian news agency Fars.
He claimed the request was raised one day after Trump's speech at the UN, adding that French President Emanuel Macron also tried to persuade Rouhani to accept the meeting with Trump, but was unsuccessful.
Iranian Foreign Ministry Spokesman Bahram Qassemi also confirmed Faza'eli's comments, saying that "this willingness (to meet President Rouhani) was expressed by the American side, but was rejected by the Islamic Republic of Iran's president."
Washington has not yet responded to the Iranian claims, which come weeks after Trump saidhe would not recertify Iran's compliance with the 2015 nuclear deal.
The president also made clear that the complete cancellation of the 2015 deal is a "real possibility."
Iranian leaders have stepped up their rhetoric in recent days and weeks as it became clearer that Trump was planning not to recertify the deal.
Iran's Foreign Minister, Mohammad Javad Zarif, warned Trump of a "reciprocal measure" if sanctions were reimposed on his country.
Rouhani also criticized Trump's speech and vowed to expand Iran's ballistic missile program.
Iran's Supreme Leader, Ayatollah Ali Khamenei, two weeks ago referred to Trump as "brute" and "stupid", and also said Tehran would "shred" the nuclear deal if the U.S. withdraws.
Iran will continue to produce missiles for its defense and does not consider that a violation of international agreements, President Hassan Rouhani declared on Sunday, according to Reuters.
Rouhani's comments, in a speech broadcast on state television, came days after the U.S. House of Representatives voted for new sanctionsagainst Iran's ballistic missile program, part of an effort to clamp down on Tehran without immediately moving to undermine the 2015 nuclear agreement.
"We have built, are building and will continue to build missiles, and this violates no international agreements," Rouhani declared, according to Reuters.
In recent months, Iran has several times test-fired ballistic missiles, raising the ire of the West.
Iran rejects the notion that its tests violate the nuclear deal it signed in 2015 or UN Resolution 2231, which bars the Islamic Republic from conducting ballistic missile tests for eight years.
The United States has already imposed sanctions on Iran, saying its missile tests violate the UN resolution.
Rouhani on Sunday also criticized the United States over Trump's refusal this month to formally certify that Tehran is complying with the accord on Iran's nuclear program.
"You are disregarding past negotiations and agreements approved by the UN Security council and expect others to negotiate with you?" he charged.
"Because of the behavior it has adopted, America should forget any future talks and agreement with other countries," Rouhani added, referring to unnamed countries in East Asia, an apparent reference to North Korea.
Trump's decision not to certify Iranian compliance with the 2015 nuclear deal between Iran and six world powers means Congress now has less than 60 days to decide whether to re-impose sanctions on Tehran that were lifted under the agreement.
Iranian Supreme Leader Ayatollah Ali Khamenei has said Tehran will stick to the agreement as long as the other signatories do, but will "shred" the deal if Washington pulls out.
Comments
comments