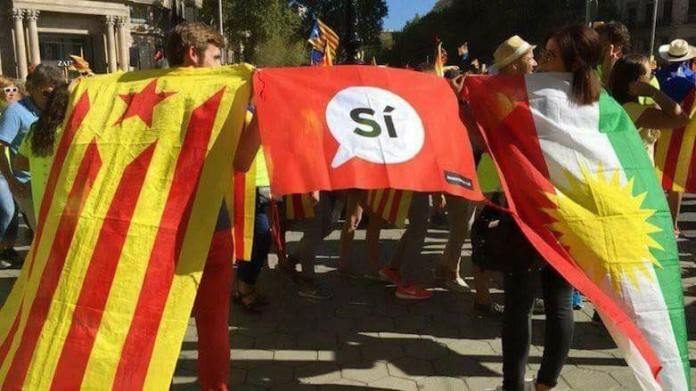 Roji Kurd: violence has broken out in Catalonia during a massive police operation to halt an independence referendum which Spain's constitutional court has suspended.
Emergency services in Catalonia have treated people who were injured when police smashed their way into polling stations to seize ballot boxes.
The Spanish government has pledged to stop a poll that was declared illegal by the country's constitutional court.
Police officers are preventing people from voting, and seizing ballot papers and boxes at polling stations.
In the regional capital Barcelona, police used batons and fired rubber bullets during pro-referendum protests.
Catalan emergency services said they had treated 38 people who were injured when police pushed back crowds of voters and forced their way into polling stations.
The Spanish interior ministry said 11 police officers had been injured.
Catalan leader Carles Puigdemont condemned the action of the national police and Guardia Civil, who were sent into Catalonia in large numbers to prevent the vote from taking place.
"The unjustified use of violence… by the Spanish state will not stop the will of the Catalan people," he told reporters.
But Spanish Interior Minister Juan Ignacio Zoido blamed Mr Puigdemont for what he termed the day's senseless events.
And the Guardia Civil tweeted (in Spanish) that it was "resisting harassment and provocation" while carrying out its duties "in defence of the law".
What are the latest developments?
The ballot papers contain just one question: "Do you want Catalonia to become an independent state in the form of a republic?" There are two boxes: Yes or No.
Ahead of the polls opening, the Catalan government said voters could print off their own ballot papers and use any polling station if their designated voting place was shut.
This slideshow requires JavaScript.
Comments
comments