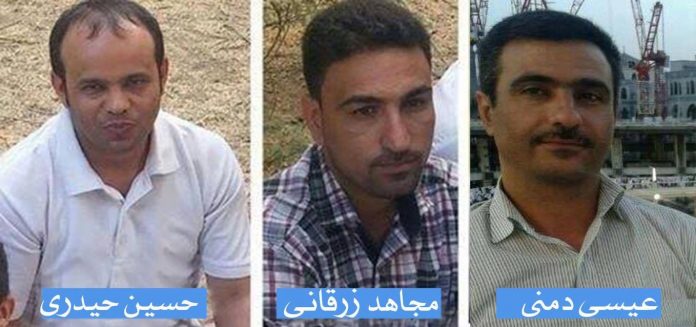 These activists were arrested at their homes by the Iranian intelligence forces of Ahwaz on Monday, 16 January 2017.
Department 4 of the Revolutionary Court in Ahwaz, headed by Judge Pour Mohammadi accused these three Ahwazi Arabs civil activists named: Issa Damny (Haddad), Mujahid Zergani and Husain (Naji) Heidari of spreading propaganda against the Iranian regime and establishing non-governmental organisations.
Judge of the department 4 sentenced Issa Damny to 1 year in prison in addition to a sentence of exile to the city of Tekab in the northwest of Iran. This sentence issued on 25 May 2017.
Issa Damny 43 years old and has two children, a journalist and teacher of Arabic, Golestan dormitory. Mr. Damny was a participant in multiple scientific seminars and lectures a number of those seminars. He also held the Arabic language classes.
One year of prison to Mujahid Zergani 36-year-old father of a child, a poet, a resident of the Zergan area in north Ahwaz. Mr. Zergani a student of Arabic language and literature in university and was the owner of a shop, one of the founders of a charitable society.
One year of prison to Husain (Naji) Heidari, 38, has two children, a teacher and translator of Arabic Language and Literature, resident of Mashali area in southeast of Ahwaz city civil and cultural activist and a rewarded teacher of Arabic literacy in the city of Ahwaz.
Comments
comments