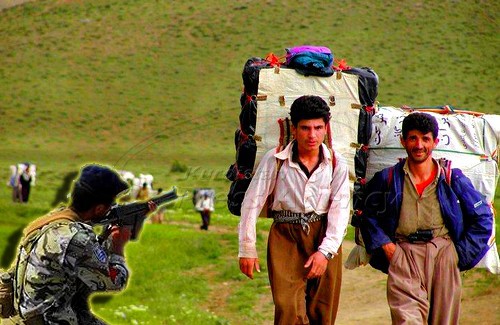 Kurdpa: In the course of killings, as a result of direct and indiscriminative shootings at Kurdish courier workers (kolbars) by paramilitary and border guards, four more Kurdish civilians in search of making a living have fallen victim.

Kurdistan Press Agency, Kurdpa has learned that Kurdish kolbars have once again become targets of the Iranian Border Guards in the city of Piranshar in Eastern Kurdistan—which resulted in one death and three injuries.
A Kurdpa reporter based in the city reported that Jaafar Lacheni, originally from the city of Mahabad working in Piranshar, is the latest deceased courier. Ali Gala, Loghman Gala and Ali Barjoee are the names of the three other injured couriers.
The lack of employment opportunities, weak economic infrastructure and development has resulted in high poverty rates in the Kurdish region of Iran. This has reportedly forced many Kurds to take on dangerous labour to support their families at the borders. Statistical figures suggest that there are 6,300 Kurdish couriers working at the border of Bamo alone, and an additional 50,000 couriers in the Sardasht and Piranshar areas.
The Lieutenant Commander of Iran's Security Forces, General Ahmad Gravand accused these couriers of smuggling narcotics, in an interview with semi-official Mehr news agency. This accusation comes at a time when these couriers have been carrying household appliances such as TV's, beauty supplies andtires,among other products, for very low wages.
A number of human rights groups and local lawyers in the region have asked the government to stop the killings of the couriers, and have argued that the sole reason behind increased trade of 'Kolbari' is the lack of employment opportunities in the deprived Kurdish areas of Iran.
Earlier, on Tuesday 19 May, Qadir Shabro, another kolbar, died following a pursuit of merchant couriers in the border areas of Shino in Eastern Kurdistan by Iranian border guards, falling from a height while attempting to flee the attackers.
Kurdpa has thus far documented 20 deaths and injuries to individuals working as 'Kolbar' couriers since March 21, 2015–the beginning of the Iranian New year of 1394.
The neglected Kurdish areas of Iran are marked by a general dearth of economic infrastructure and development proportionate to the population, resulting in high rates of poverty and unemployment, the International Campaign for Human Rights in Iran reported in their 2012 report.
The Iranian government puts the unemployment rate for the region at 14 percent, but local experts and activists say this number is a misrepresentation and the real rate is well over 20 percent, and even much higher among the younger population just entering the labor market.
Writing by Kurdpa Staff Writers, translation by Kajal Mohammadi and editing by Sharmin Hassaniani.
Comments
comments