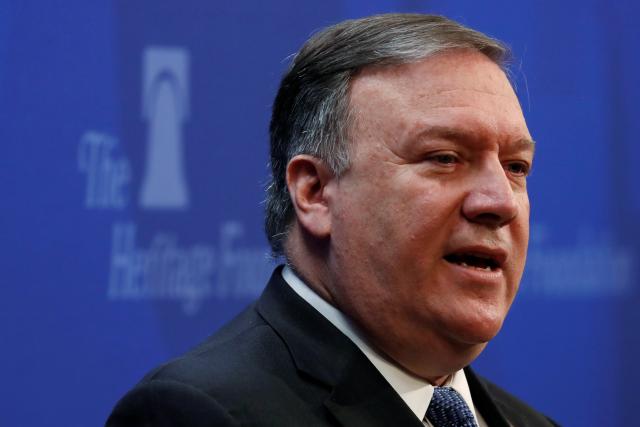 Secretary of State Mike Pompeo on Monday threatened to impose the "strongest sanctions in history" against Iran if it did not accept a sweeping series of U.S. demands, including effectively giving up its nuclear ambitions, curtailing its ballistic missile program and ending its expansionist behavior.
Roji Kurd: Weeks after the United States pulled out of an international nuclear deal with Iran, Pompeo spelled out a hardline approach towards the Islamic Republic, potentially setting Washington and Tehran on a deeper confrontation course.
"The sting of sanctions will only grow more painful if the regime does not change course from the unacceptable and unproductive path it has chosen for itself and the people of Iran," Pompeo said in his first major foreign policy speech since becoming secretary of state.
Pompeo took aim at Iran's policy of expanding its influence in the Middle East through support for proxy armed groups in countries such as Syria and Yemen.
He warned that the United States would "crush" Iranian operatives and allies abroad and told Tehran to withdraw all forces under its command from the Syrian civil war where they back President Bashar al-Assad.
Iran is unlikely to accede to the U.S. demands. Tension between the two countries has grown notably since U.S. President Trump this month withdrew from the 2015 nuclear agreement aimed at preventing Tehran from obtaining a nuclear weapon.
Pompeo warned that if Iran fully resumed its nuclear program Washington would be ready to respond and said the administration would hold companies doing prohibited business in Iran to account.
"Our demands on Iran are not unreasonable: give up your program," Pompeo said, "Should they choose to go back, should they begin to enrich, we are fully prepared to respond to that as well," he said, declining to elaborate.
The speech did not explicitly call for regime change but Pompeo repeatedly urged the Iranian people not to put up with their leaders, including President Hassan Rouhani and Foreign Minister Mohammad Javad Zarif.
"At the end of the day the Iranian people will get to make a choice about their leadership. If they make the decision quickly, that would be wonderful, if they choose not to do so we will stay hard at this until we achieve the outcomes I set forward," said Pompeo.
He laid out 12 demands for Iran and said relief from economic sanctions would only come when Washington had seen tangible shifts in Iran's policies.
He called on Iran to stop uranium enrichment and never to pursue plutonium reprocessing, including closing its heavy water reactor.
It also had to declare all previous military dimensions of its nuclear program and to permanently and verifiably abandon such work, he said.
Pompeo's demand that Tehran stop uranium enrichment goes even further than the nuclear deal. Iran says its nuclear work has medical uses and will produce energy to meet domestic demand and complement its oil reserves.
European parties to the nuclear deal – France, Britain and Germany – are working to find a way to keep the nuclear pact in effect after Washington's exit.
Pompeo said Washington would be open to a new treaty and wanted the support of America's allies, not just in Europe.
He said the administration will work to address concerns of its allies but over time hoped they would recognize that the Trump administration's strategy on Iran was the right one.
"There are scores of countries around the world that share our concerns and are equally threatened by the Iranian regime and it is that shared interest which will ultimately drive, I believe, a global response to the world's largest state-sponsor of terrorism," Pompeo said.
Comments
comments