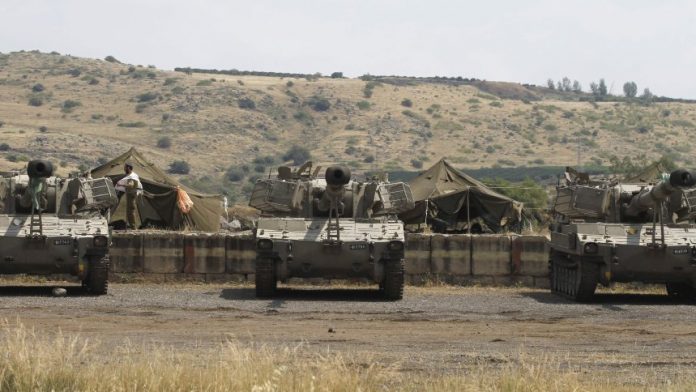 Israel accuses Iranian forces of attacking military posts on the Golan Heights with about 20 missiles. The projectiles had been fired from Syria. An Israeli army spokesman says: People have responded.
Roji Kurd: Syrian reports late Wednesday night said that Israeli missiles were launched at Syria. The reports, which were not confirmed by Israel, alleged that Syria has intercepted some of the missiles.
Moments earlier, a barrage of 20 rockets was fired from Syria towards Israeli military outposts in the Golan Heights. No injuries were reported. Several rockets were intercepted by the Iron Dome missile defense system.
Some informal news resources reported, the fighting between Tanks on Israiel and iran between the Israiel ans Syria's borders.
The War between Iran and Israiel in Syria maybe has begun.
The Israeli army is attributing the attack to members of the Quds force of the Iranian Revolutionary Guard.
The military said intelligence assessments earlier in the week anticipated that after U.S. President Donald Trump announced that he was withdrawing from the Iranian nuclear accord, Israel was likely to be targeted by rocket fire and Iran would try to retaliate.
Nonetheless, the army has predicted that such an attack would not lead to a full-fledged war. Tehran has issued several threats over the past month, saying that it would hurt Israel in response to a slew of attacks that were ascribed to the Israeli air force. The latest attack, carried out on May 9, claimed the lives of seven Iranians in the Syrian air force base T4.
Over the past month tensions have been high along the Israeli border with Syria and the army has increased security measures in the area, deploying more Iron Dome batteries across the northern region.
Israeli intelligence agencies have been warning of an Iranian retaliatory attack on Israel for an air strike several days earlier, in which seven Iranian military personnel were killed in Syria on 9 April. Syria and Iran blame Israel.
Comments
comments