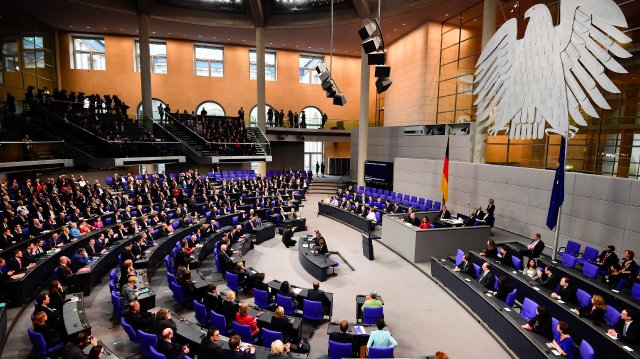 About 500 MPs from Germany, France and Britain turn to colleagues in the US Congress. In a written appeal to SPIEGEL, they warn against terminating the nuclear deal with Iran.
Roji Kurd: US President Donald Trump calls the nuclear deal with Iran, also known as JCPoA, the "worst deal ever". If the deal is not tightened until May 12, Trump wants to unilaterally annul him and reinstate the previous sanctions. That's what the US Congress will have to decide.
To prevent this, around 500 German, French and British MPs have now sent a letter directly to their colleagues in the US Parliament. "The US government threatens to abandon the JCPoA, although Iran fulfills its obligations under the agreement," says the letter, which SPIEGEL, together with the French newspaper "Le Monde", the British "Guardian" and the "New York Times" reports exclusively. Read the complete letter here.
An exit from the US would have fatal consequences, warn the signatories from those three EU countries, which have negotiated the 2015 nuclear agreement in addition to the US, China and Russia. "The short-term impact of this move would put an end to Iran's nuclear program controls, which could provide a new source of devastating conflict in the Middle East and beyond," it says.
But even more serious are the long-term consequences: a lasting damage to the credibility of the West. "Leaving the agreement would diminish the value of all the promises and threats our countries make," the parliamentarians said.
The campaign was organized by Green MP Omid Nouripour, French MP Delphine O of President Emmanuel Macron's En Marche, and Briton Richard Bacon of Tory's Prime Minister Theresa May.
Prominent signatories from Germany include Green Party leader Annalena Baerbock, Left-wing politician Gregor Gysi, FDP parliamentary group vice-president Alexander Graf Lambsdorff, and Bundestag vice-presidents Thomas Oppermann (SPD) and Claudia Roth (Greens). So far no one from the Union faction has signed, the AfD was not asked by the initiators.
Trump gives little to international agreements
Behind the initiative is the hope that congressmen may moderately influence their president. Whether the arguments put forward by European parliamentarians help in this is uncertain. Finally, Trump has hitherto been little concerned with the argument that it is necessary to be contract-loyal to international agreements. Not only did he unilaterally leave the Paris Climate Agreement. His plan to impose punitive tariffs violates the rules of the World Trade Organization.
As a result, governments in Berlin, Paris and London are pushing for sanctions against Iran to be stepped up rather than canceling the deal. The signatories of the letter also refer to this possibility. They criticize the country's "aggressive policies" at home and abroad: "We share the concerns that many raise about this policy," parliamentarians said, "but we are deeply convinced that they need to be treated separately – and not in the context of the nuclear agreement. "
Comments
comments