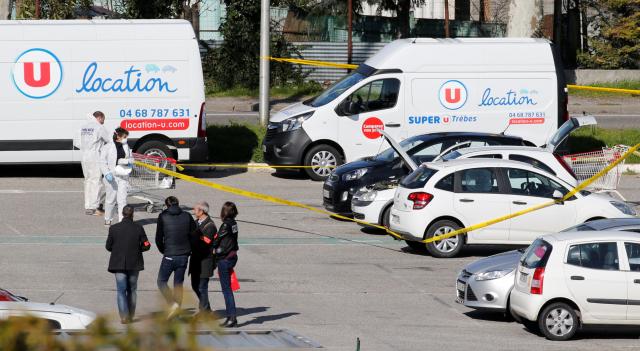 Three people were killed in southwestern France on Friday when a gunman held up a car, opened fire on police and then took hostages in a supermarket, screaming "Allahu Akbar".
Roji Kurd: Police later stormed the supermarket in the small town of Trebes and the attacker was killed, Interior Minister Gerard Collomb told reporters at the scene.
The 26-year old attacker from the nearby city of Carcassonne, named as Redouane Lakdim, was known to authorities as a petty criminal but was not considered an Islamist threat, Collomb said, adding that he was believed to have acted alone.
More than 240 people have been killed in France in attacks since 2015 by assailants who pledged allegiance to Islamic State or were inspired by the group. Islamic State claimed responsibility for Friday's attack but offered no details.
The last lethal attack in France was in October 2017 when a Tunisian-born man stabbed two young women to death in Marseille before he was shot dead by soldiers. Islamist State also claimed responsibility for that attack.
"Every day we detect facts and foil new attacks. Alas, this one struck without us being able to counter it," Collomb said.
Lakdim first killed one person with a bullet in the head while stealing a car in Carcassonne, which is one of France's top tourist attractions. He then shot at four police officers who were jogging before taking hostages at the supermarket in Trebes, about 8 km (5 miles) to the east, where two people died.
"We had monitored him and thought there was no radicalization," Collomb said. "He was known for possession of drugs. We couldn't have said that he was a radical that would carry out an attack."
Five people were wounded in the attacks, including three seriously. Lakdim shot one police officer in the shoulder in Carcassonne, a walled hill top city which is a UNESCO World Heritage site.
Speaking in Brussels, President Emmanuel Macron said the incident appeared to be a terrorist attack. He then headed back to Paris, where he was filmed chairing a crisis meeting with ministers and security officials.
Comments
comments