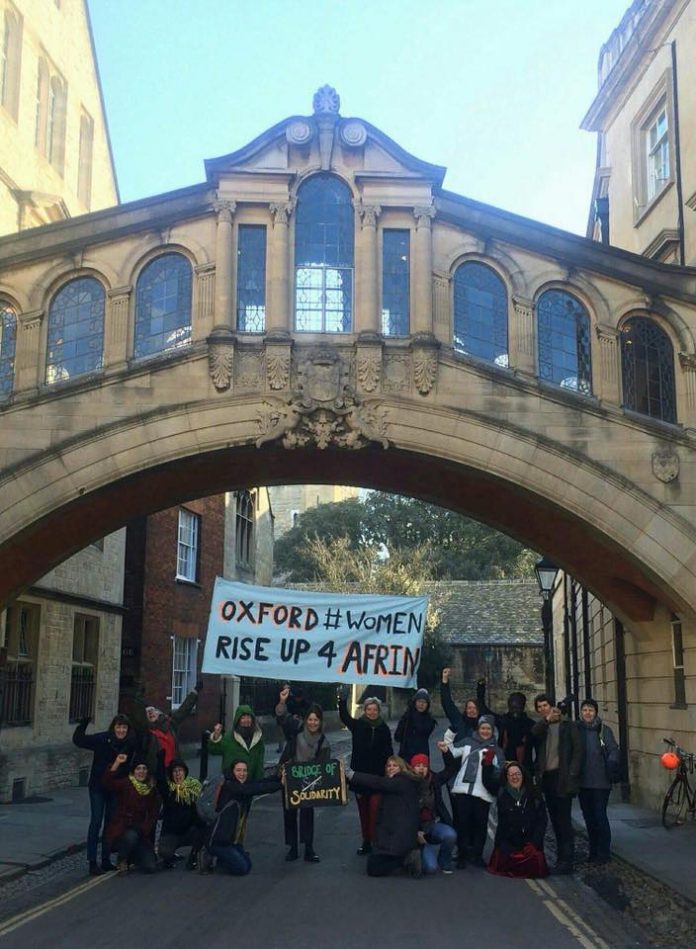 "Women from Oxford answered the call from Kurdish women's movement of Rojava; the women fighters of the YPJ Women's Protection Units to 'Rise Up For Afrin' " said Rojeen Qaqu of the Oxford Emergency Committee for Afrin.
Roji Kurd; "We are standing proudly in solidarity with these incredibly brave women of the YPJ who are at the forefront of the resistance to the Turkish and jihadists invasion of Afrin in Syrian Kurdistan"
This was a women only demonstration and all those took part were being asked to wear the Kurdish colours of red, green and yellow.
It was a very visual and vibrant demonstration with banners and Kurdish colours.
women struggling in northern Syria, more recently against brutal attacks by the Turkish army.
Meet tomorrow (Tues) morning under the Bridge of Sighs for a quick pre-work photo demo, 8.45am! Wear some red, green and/or yellow, the Kurdish colours! Spread the word."
The Oxford Emergency Committee For Afrin, strongly condemns the illegal and arbitrary arrest of the Kurdish Leader and human rights' activist, Salih Muslim in Prague, Czech Republic, at the behest of Turkey, on February 24th, 2018.
We call on the Czech authorities to immediately release the former PYD co-leader. We strongly urge all the international Human Rights activists and organisations to join us in expressing grave concern over the arrest of the Kurdish leader.
Comments
comments