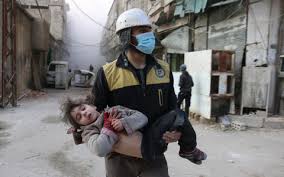 Vladimir Putin has ordered a daily five-hour ceasefire in the besieged Syrian enclave of Eastern Ghouta, a development that could ease the bombing but falls far short of the UN's demand for a full 30-day truce across the country.
Roji Kurd: Sergei Shoigu, Russia's defence minister, said the daily ceasefire would begin on Tuesday and would last from 9am until 2pm each day.
He also said Russia would supervise a "humanitarian corridor" to allow civilians to leave the rebel-held suburb and travel into regime-controlled aras.
"On the instructions of the Russian president, with the goal of avoiding civilian casualties in Eastern Ghouta, from February 27 – tomorrow – from 9am to 2pm there will be a humanitarian pause," Mr Shoigu said.
Mr Putin's order came two days after the 15 members of the UN Security Council – including Russia – voted unanimously to impose a month-long nationwide ceasefire in Syria.
The UN also demanded that humanitarian aid be delivered to besieged areas and that the wounded be allowed to evacuate. Mr Putin's instructions did not appear to address either of those issues.
Syrian regime and Russian forces have been bombarding Eastern Ghouta intensively for more than a week, killing more than 500 civilians with airstrikes and artillery barrages.
Nine members of one family were killed in an airstrike early Monday, according to the Syrian Observatory for Human Rights. Activists also said a young boy died Sunday night from a suspected chemical weapons attack.
Residents in Eastern Ghouta were deeply sceptical as news of Mr Putin's ceasefire order spread. "The Russians are laughing at laughing at the world," said one medic. "They don't care about human blood and they don't care about the resolution of the UN security council."
Haitham, a father sheltering in a basement with his four-year-old son, shrugged at the news. "We don't rely much on the dead conscience of Russia."
Activists said bombing was slightly less intense on Monday than it had been before the UN security council vote on Saturday. But aerial attacks continued and ground fighting still raged between rebel forces and regime troops.
Comments
comments