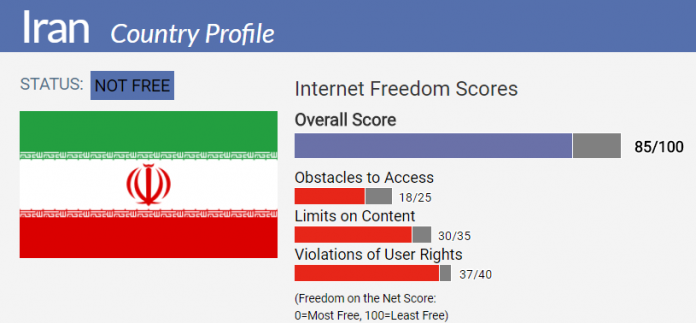 Roji Kird:Iran in again a not free country in the world based on Freedom House report.
Here is the freedom haues reaport abuout Iran.
Overview: 
The Islamic Republic of Iran holds elections regularly, but they fall short of democratic standards due partly to the influence of the hard-line Guardian Council, an unelected body that disqualifies all candidates deemed insufficiently loyal to the clerical establishment. Ultimate power rests in the hands of the country's supreme leader, Ayatollah Ali Khamenei, and the unelected institutions under his control. These institutions, including the security forces and the judiciary, play a major role in the suppression of dissent and other restrictions on civil liberties.
Key Developments in 2017:
President Hassan Rouhani, a self-proclaimed moderate, won a second four-year term in May, easily defeating a hard-line opponent.
In August, the parliament passed an amendment to the country's drug-trafficking law that could significantly reduce the high number of executions for drug offenses. The Guardian Council approved the bill in October. Iran carries out hundreds of executions each year, including of convicts who were juveniles at the time of their alleged crimes.
In December, Tehran's police chief said city authorities would no longer arrest people—usually women—for breaching rules on personal appearance, instead mandating education sessions by police officials. However, the change apparently applied only to the capital, and repeat offenders could reportedly still face detention.
Near the end of December, angry protests sparked by worsening economic conditions spread to several cities across Iran and included calls for an end to the Islamic Republic from some participants. Several people had been killed in clashes between protesters and security forces as of December 31, and hundreds were arrested. Authorities restricted access to popular communication applications in a bid to suppress the demonstration
Executive Summary:
President Rouhani won reelection in May 2017 with about 57 percent of the vote. His strongest challenger, hard-line cleric Ebrahim Raisi, took some 38 percent. However, during the year Rouhani failed to effectively challenge repressive elements in the regime and deliver the greater freedoms he had promised since his 2013 election campaign. Among other controversial appointments to Rouhani's new cabinet was Information and Communications Technology Minister Mohammad Javad Azari Jahromi, a former intelligence official who had helped to develop Iran's surveillance infrastructure and was accused of involvement in interrogations of detained dissidents.
Although there have been modest improvements on some human rights issues under Rouhani, including a gradual reduction in the number of imprisoned journalists, the regime maintained restrictions on freedom of expression, both offline and online, during 2017. For example, authorities continued to arrest and coerce administrators of reformist channels on the popular messaging application Telegram. In late December, when protests prompted by deteriorating economic conditions spread to cities across the country and aired bold demands for political change, officials responded in part by restricting access to Telegram and another popular app, the photo-sharing platform Instagram.
The late-year protests led to violent clashes with security forces in some locations, leaving several people dead and about 400 in detention. Rouhani urged protesters not to engage in violence, but argued that their legitimate grievances must be addressed. In contrast, hard-liners and security officials blamed foreign powers for instigating the unrest and warned of severe punishments for participants.
Also during 2017, U.S. president Donald Trump repeatedly threatened to withdraw from the 2015 international agreement on Iran's nuclear program, which the Rouhani government supported partly as a means of reducing sanctions, increasing foreign investment, and improving the economy. Rouhani's hard-line opponents have criticized the deal and warned that greater openness and closer ties with the West could enable "infiltration" by hostile powers. The regime's ongoing practice of detaining and prosecuting foreigners and dual nationals, including U.S. citizens, on spying charges is seen as an effort by the security and intelligence establishment to thwart closer international ties.
Terrorism remained a concern during the year. In June, at least 18 people were killed in two coordinated attacks on Iran's parliament and the mausoleum of the founder of the Islamic Republic. The Islamic State (IS) militant group claimed responsibility for the attacks.
Reformist opposition leaders Mir Hossein Mousavi, his wife Zahra Rahnavard, and Mehdi Karroubi remained under house arrest for a seventh year without being formally charged or put on trial. According to their relatives, their health had seriously deteriorated as a result of their confinement, and they were denied adequate medical care.
Comments
comments