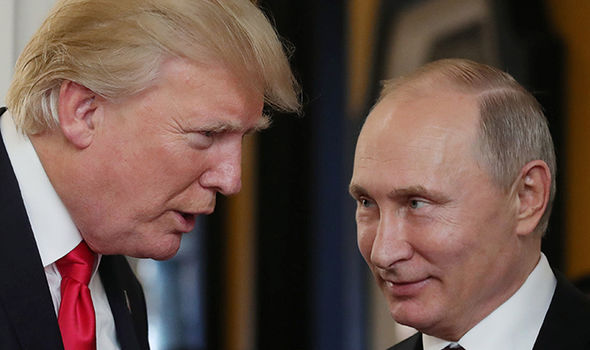 U.S. President Trump spoke by phone on Thursday with Russian President Vladimir Putin and the two leaders "discussed working together to resolve the very dangerous situation in North Korea," the White House said in a statement.
Roji Kurd: Kim Jong-un's repeated back and forth with the US President has led to fears of conflict erupting on the Korean peninsula that could bring superpowers China, Russia and the US to the brink of war.
Now Russian President Mr Putin, who has long criticised the Republican firebrand's approach to the hermit kingdom, has reached out to Donald Trump to quell the North Korean crisis in an hour-long phone call.
A Kremlin aide confirmed the two discussed the ever-growing Korean crisis, as well as middle east tensions.
Kremlin spokesman Dmitry Peskov said ahead of the call earlier today that the conversation would also focus on Syrian President Bashar al-Assad's visit to Russia which he made on Monday.
The Kremlin said in a statement that Trump and Putin discussed bilateral relations and the situation in the Korean Peninsula.
In an article released by the Kremlin, the Russian President wrote: "Russia believes that the policy of putting pressure on Pyongyang to stop its nuclear missile program is misguided and futile.
"Provocations, pressure and militarist and insulting rhetoric are a dead-end road."
However the influence of Moscow carries weight in Pyongyang following Russia's decision to write off $10billion dollars of debt owed from the Soviet era.
Comments
comments