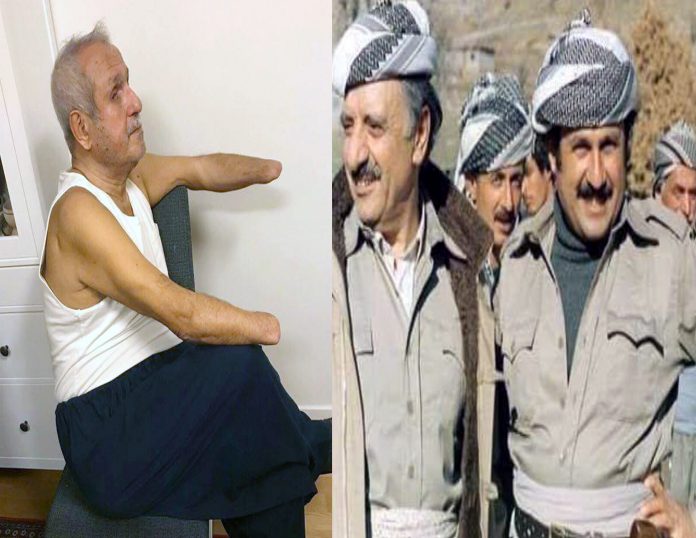 Roji Kurd: Hassan Ebrahimi Vatman, a victim of the Iranian government's terrorism, has written a letter to Asima Jahangir, the United Nations Special Rapporteur for Human right situation in Iran, and requested her to help him and the Kurds to record the terrible crimes of Iranian government's Terrorism.
The Letter:
Dear Asma Jahangir,
it is of great importance to me to give you a little information about myself. My name is Hassan Ebrahimi Vatman. I am from the section of Kurdistan that is under the control of Iran, which is known as Iranian Kurdistan. In 1947, I was born in a small village that is called Shiwasel. Because of that I am known as Hassan Shiwasali. In the early years of my life, I became sympathetic to PDKI (Iranian Democratic Party of Kurdistan) and I have now been a member for decades. However, in 1987, Khomeinis secret agents sent me a book with a powerful bomb hidden within. The bomb, brought to me by two of Ittlahat's secret agents, exploded in my hands.
As a result, I lost my two hands and both of my eyes, some of my teeth, a large section of my hearing and most of my smelling. I was also burnt and injured in many other parts of my body. To treat my injuries, I was sent to Bagdad, and then to treat my eyes I was sent to Paris and finally to Holland.
None of the eye surgeries weresuccessful and I could not get back my vision. The bomb made me completely and permanently blind. I still suffer from the injuries caused by the bomb. Only last year I did an operation in one of my ears but it was not successful.
In 1995, I fled to Sweden as a refugee, since me, my wife and my two sons were still persecuted by Iranian insurgents. Up to now, the crime that was committed against me has remained completely unrecognized. I tried many times to contact Mr. Ahmad Shahid. Unfortunately, I was not successful.
The last time when Mr. Shahid came to Sweden, I didn't have any information about his visit. It was very painful for me that I couldn't visit him and tell him the bitter story of my life and my situation. Now I have received information that you have replaced Mr. Shahid's position and are working with questions regarding Iran's human rights violations.
I will send you some pictures of myself to put in front of you and other human rights defenders, to know more about my situation and the inhumanity of the Islamic Regime. My tragic fate could be a very clear document to illuminate the monstrous face of terrorism and condemn this devastating phenomenon.
I will be very grateful if I could be recorded as a victim of Iranian terrorism and will also be obliged if you could answer my request.
With warm regards,
Hassan Ebrahimi Vatman (Shiwasali)
September 19, 2017
Comments
comments