Mehmet Aksoy, Kurdish journalist and film-maker, from London, was working as a press officer for Kurdish forces in Raqqa when military base was attacked
Roji Kurd: A Kurdish journalist and film-maker from London has been killed while working alongside Kurdish forces fighting Islamic State in Syria, his friends and Kurdish activists have said.
Mehmet Aksoy, 32, from London, was not fighting but working as a press officer for the Kurdish People's Protection Units (YPG) when the military base in which he was stationed was hit by a surprise attack on Tuesday morning.
Aksoy, a Kurd from North Kurdistan who moved to Britain with his family 22 years ago, is believed to be the fifth British citizen killed while volunteering with the US-led militia spearheading the battle against Isis in Syria.
Friends confirmed his death last night as about 300 British Kurds, including his parents, held a twilight vigil at the Kurdish Community Centre in north London.
"Mehmet never fought – that was never his plan," friend Aladdin Sinayic, 38, from London, told the Guardian. "He told me just before he left that there are better ways he could fight Isis than with a gun. He said there are many great fighters offering their lives to defeat Isis but they are not visible to the world. He wanted to tell their stories and show the world what the Kurds are doing in Syria."
It is understood that Aksoy travelled to Syria on 22 July without telling his parents, who own an off-licence in Luton. He spent the next three months filming the battle for Raqqa, publishing his material on social media and other websites. His job was also to liaise with journalists in Britain and around the world covering the conflict.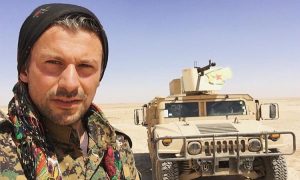 Friends described him as a "passionate" and "loving" man who had devoted his life to supporting the Kurdish struggle for greater rights in the Middle East. "He had wanted to go for a long time but stayed at home for the sake of his mother," Sinayic said.
"He talked to her a lot about how he dreamed of moving to Kurdistan and I think she was scared for him but understood why he had to go. She told me today that she has lost her best friend."
Comments
comments