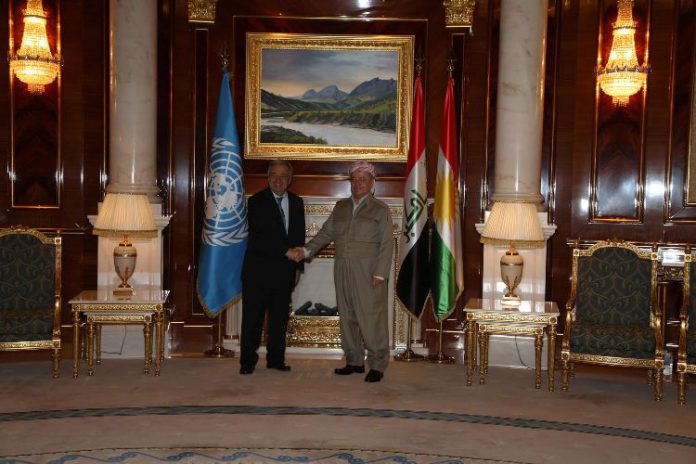 United Nations Secretary-General Antonio Guterres arrived in Erbil on Thursday (March 30) to meet with senior Kurdish officials.
The U.N. chief held his first talks with Masoud Barzani upon his arrival at Erbil International Airport, official media from the Kurdistan Democratic Party (KDP) reported.
"A referendum will be held in the near future," on the Kurdistan Region's independence, Barzani said during meeting with Guterres as cited by KDP media.
Barzani spoke with the U.N. Secretary-General about the fight against Islamic State (ISIS), saying "It is an honor to see that the myth of Daesh [ISIS] was defeated at the hands of Peshmerga."
"There is good military and security cooperation between Peshmerga and Iraqi forces which resulted in huge victories," he added.
Guterres reportedly expressed the U.N.'s support for the Kurdistan Region and Iraq to restore peace to areas ISIS from where ISIS was expelled.
Guterres said the international community "has not done enough" to help the Kurdistan Region in sheltering internally displaced people.
The U.N. Secretary –General landed in Baghdad to focus on the dire humanitarian situation on the ground as the fight against ISIS continues in western Mosul.
"Just arrived in Iraq to focus on the dire humanitarian situation on the ground. Protection of civilians must be the absolute priority," Guterres tweeted.
On March 28, the International Organization for Migration announced more than 286,000 Iraqis have been displaced from western Mosul due to the military operation in the city.
Since the beginning of the Mosul offensive in October, over 350,000 people have been displaced due to the fighting between Iraqi forces and ISIS, according to U.N. figures.
Comments
comments