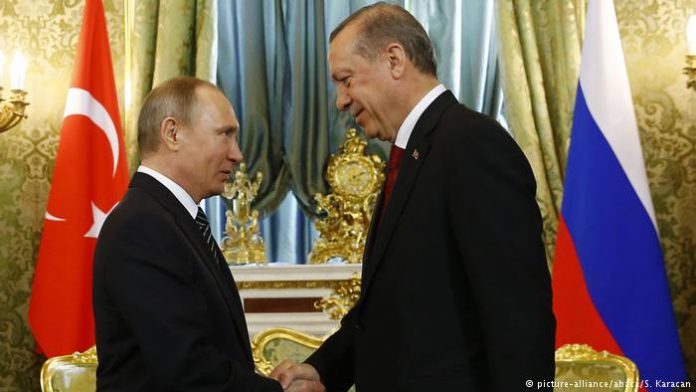 Turkish President Recep Tayyip Erdogan is in Moscow to discuss the two countries' roles in the Syria conflict. They are increasingly cooperating in the complex Middle Eastern war.
Russia partially lifted an import ban on Turkish agricultural goods ahead of a meeting between Presidents Vladmir Putin and Recep Tayyip Erdogan in the Kremlin on Friday.
 "We are actively working to solve the most acute crises, first of all in Syria," Putin said as he greeted Erdogan at the start of the talks. "I'm very pleased to note, and few seemed to expect it, that our military and special services have established such efficient and close contact."
The Kremlin said it expected the Syria conflict and improvement in business ties to feature prominently in the discussions.
"The leaders will discuss the entire scope of Russian-Turkish relations with a focus on the further restoration of mutually beneficial trade and economic ties," particularly collaboration on the Turkish Stream gas pipeline and the Akkuyu Nuclear Power Plant, the Kremlin said.
Russia said it would accept imports of Turkish onions, cauliflower and broccoli but it would maintain a ban on one of Turkey's most important agricultural exports: tomatoes. Russia imposed the ban in early 2015 after a Turkish fighter jet shot down a Russian warplane on the Turkish-Syrian border.
Comments
comments