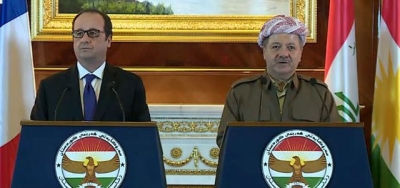 Peshmerga needs additional support and this demand will be addressed to the French President François Hollande, said the press secretary of the Ministry of Peshmerga.
Speaking to BasNews on Monday, Halgurd Hikmat said that Peshmerga will ask for further support from France, especially for training and reorganizing the structure of the Kurdish forces.
Hikmat expressed the Ministry is content with the training and drills offered by the French Ministry of Defense to Peshmerga.
"France was the first country which stepped forward to support Peshmerga, either by training or by the aerial support [to bomb the Islamic State(IS) targets]… No other country was seen to volunteer [ for the battle against IS] in France's pace," thus Hikmat commended France.
The President of France, accompanied by the French Defence Minister, Jean-Yves Le Drian and other officials, arrived in Erbil on Monday afternoon where he was received by Kurdistan Region President Masoud Barzani and many other Kurdish officials.
As the official indicated, after meeting with Kurdistan President Masoud Barzani, Hollande will also visit the military trainers and advisors who are assisting the Kurdish forces in Kurdistan.
Comments
comments