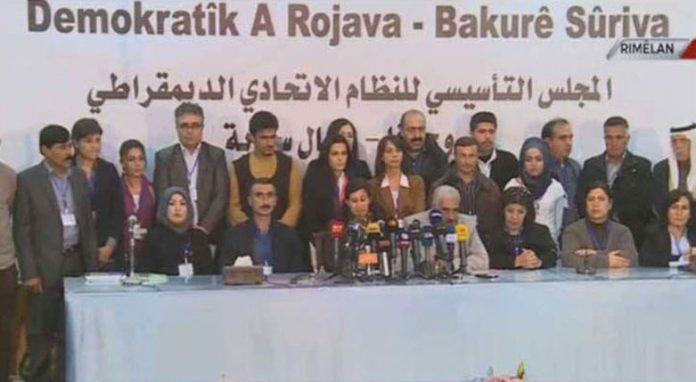 Syrian Kurdish groups and their allies said on Thursday they approved a blueprint for a system of federal government in northern Syria, reaffirming their plans for autonomy in areas they have controlled during the civil war.
The blueprint amounts to a constitution, known as the social contract, an official told Reuters this week.
It aims to cement the autonomy of areas of northern Syria where Kurdish groups have already carved out self-governing regions since the start of the war in 2011, though Kurdish leaders say an independent state is not the goal.
"The social contract draft was ratified," Mansour al-Salloum, joint head of the Founding Council of the Federal System, told Reuters in Rmeilan in northeast Syria.
"The executive committee will prepare for elections" first to regional administrations and later to a central body, he said, without giving a date for the votes.
Salloum said that for areas currently outside the control of the Kurds and their allies, such as Islamic State-held Raqqa, the local population would ultimately decide whether they wanted to be part of the federal system.
Separate forces are fighting against IS militants around Raqqa including the Kurdish YPG and its allies backed by the United States, and the Syrian army backed by Russian air strikes. Turkish-backed rebels are fighting the jihadist group further northwest.
Syrian Kurdish groups and their allies have made their moves towards regional autonomy in the absence of any international deal for a political settlement to the nearly six-year Syrian war.
(Reporting by Rodi Said, writing by John Davison; editing by John Stonestreet/Ruth Pitchford)
Comments
comments