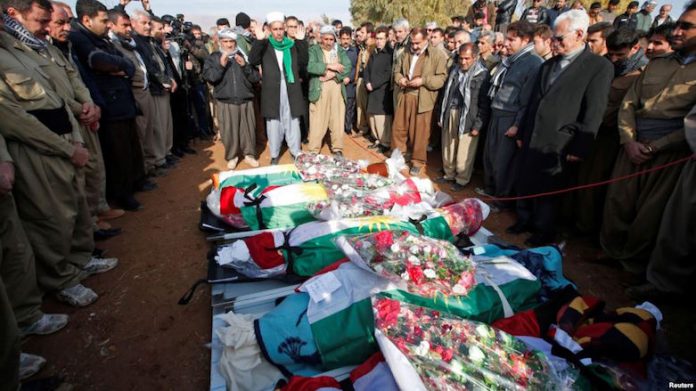 The armed Kurdish opposition whose headquarters was the target of a twin bomb explosion accused Iran of the attack.
A twin blast took the lives of six Peshmerga of the Democratic Party of Kurdistan (PDK) in Koy Sanjaq, east of Erbil, the capital of the autonomous Kurdistan Region.
A Kurdistan Region police officer also lost his life in the attack.
"There is no doubt that it's the Iranian regime," Asso Hassan Zadeh, a central committee member, told Reuters at the fighters' funerals. "But, in any case, we will not stop our struggle."
"We will not respond terror with terror," said Khaled Azizi, the secretary general of the PDK, at the funeral.
"The Islamic Republic of Iran wants to create an atmosphere of instability. Terrorism is sewn into Iran, but terrorism does not scare the PDK," Azizi told reporters.
The PDK is a split branch of the Kurdistan Democratic Party of Iran which, unlike the original group, supports reform in Iran and has not engaged in armed struggle.
While Iran has a history of having hanged and assassinated the leaders of the Kurdish Democratic Party, analysts ask why Iran would attack the branch that has been at peace with them instead of the one that recently engaged in clashes.
Qazi Muhammad, the first leader of the party, was executed in Iran in 1947.
Abdulrahman Ghassemlou and Sadeq Sharafkandi were two other PDK leaders who were both assassinated in Europe in 1989 and 1992 respectively.
Iran's 10 to 13 million Kurds mostly live in the northwest, close to Iraqi and Turkish Kurdish communities across the border.
Comments
comments