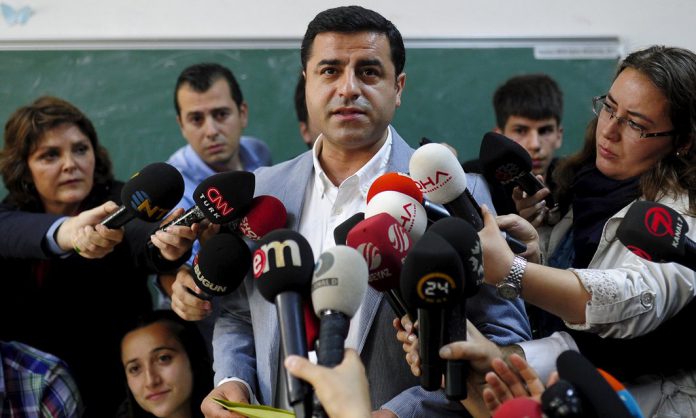 The two joint leaders of Turkey's pro-Kurdish Peoples' Democratic party (HDP) have been detained along with at least 10 MPs because of their reluctance to give testimony for crimes linked to "terrorist propaganda".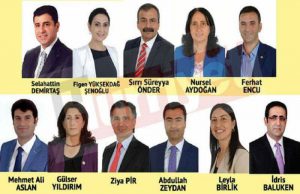 Police raided the Ankara home of co-leader Selahattin Demirtaș and the house of co-leader Figen Yüksekdağ in Diyarbakır, the largest city in Turkey's mainly Kurdish south-east, early on Friday.
Demirtaş – a charismatic leader known as the "Kurdish Obama" by some admirers – and Yüksekdağ had been targeted by several separate investigations over the past few months but this is the first time that either has been detained.
At least 10 other HDP parliamentarians were also held, lawyers said, in a major escalation of the government's crackdown on its opponents in the wake of the failed coup on 15 July. Raids also took place in the south-eastern cities of Van and Bingöl.
The raids took place against a backdrop of rising criticism over the government's purge, which earlier this week also saw the issuing of arrest warrants against editors and staff of Cumhuriyet, the main opposition newspaper in the country, and a fresh round of dismissals in the gendarmerie.
Ankara accuses the HDP's politicians of harbouring sympathies for, and acting to further the interests of the Kurdistan Workers, party (PKK), a separatist group engaged in an insurgency against the government. Peace talks collapsed last year amid accusations that the PKK was rearming and as the ruling Justice and Development party (AKP) drifted towards allying with the nationalist bloc in parliament.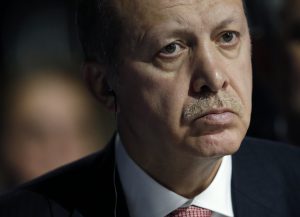 Turkish journalists face abuse and threats online as trolls step up attacks
Read more
The purges of the police and media institutions are part of a crackdown on what the authorities say are individuals and organisations with alleged links to Fethullah Gülen, a US-based preacher that Turkey accuses of masterminding the coup.
The prime minister, Binali Yıldırım, told reporters that elected officials who incite and encourage terrorism must face legal proceedings and that the MPs were detained because they had refused to give testimony.
But Turkey's allies are likely to perceive the latest arrests as a further attempt by President Recep Tayyip Erdoğan to consolidate his power ahead of a parliamentary vote and referendum expected as early as next spring to revise the Turkish constitution and transform the country from a parliamentary democracy into a presidential system.
The leader of the nationalist bloc, Devlet Bahçeli, recently backed a referendum, making a vote on the issue more likely.
A widespread difficulty in reaching social media websites such as Twitter and Facebook as well as messaging app WhatsApp was also reported across Turkey after the detentions started at midnight.
Editing by RojiKurd
Comments
comments