According to a CNN, the United Nations said Friday it is "gravely worried" that ISIS has taken 550 families from villages around Mosul, Iraq's second-largest city,and is using them as "human shields" as Iraqi and Kurdish forces battle the terror group for control of the city.
Two hundred families from Samalia village and 350 families from Najafia were forced out Monday and taken to Mosul in what appears to be "an apparent policy by ISIS to prevent civilians escaping," Ravina Shamdasani, deputy spokeswoman for the UN Human Rights Office, told CNN.
Meanwhile, ISIS militants attacked security buildings in
Kirkuk
, 175 kilometers (109 miles) southeast of
Mosul
.
UN concerned ISIS will kill civilians
Zeid Ra'ad Al Hussein, UN High Commissioner for Human Rights, said his office had evidence of several instances since Monday where ISIS forced civilians to leave their homes in outlying villages and head to Mosul. It also had received reports that civilians suspected of disloyalty had been shot dead.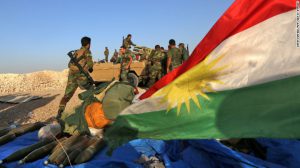 There is a grave danger that (
ISIS
) fighters will not only use such vulnerable people as human shields but may opt to kill them rather than see them liberated," he said.
His office is examining reports that ISIS shot dead at least 40 civilians in a village outside Mosul.
The UN human rights chief urged the Iraqi government to make the protection of civilians a priority since ISIS "has no regard for human life."
Any ISIS fighters who are captured or surrendered "should be held accountable in accordance with the law for any crimes they have committed.
Local authorities imposed a curfew in Kirkuk amid the attacks.
The media wing of ISIS, Amaq, said online that ISIS fighters had attacked Kirkuk before dawn and taken control of 10 neighborhoods as well as carried out attacks to the north and south of the city.
The battle in and around Kirkuk is ongoing, Amaq said.
Previous
attacks
by ISIS militants on Kirkuk have been attempts either to capture the city from the Peshmerga, as the Kurdish fighters are known, or divert Kurdish troops from the fight in Mosul.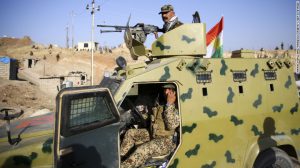 Intense battle around Mosul
Fighting outside of Mosul as part of the offensive to retake ISIS' last bastion of power in Iraq was the fiercest yet on Thursday, with Iraqi-led forces meeting strong resistance from militants.
Iraqi Maj. Gen. Maan al-Saadi said 200 ISIS fighters were killed as Iraqi forces captured the Christian town of Bartella, the latest win for the coalition of around 100,000 closing in on Mosul.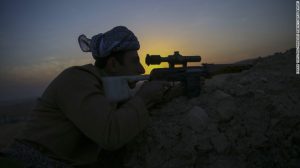 By Mohammed Tawfeeq, Laura Smith-Spark and ,Madison Park, October 21, 2016
Comments
comments