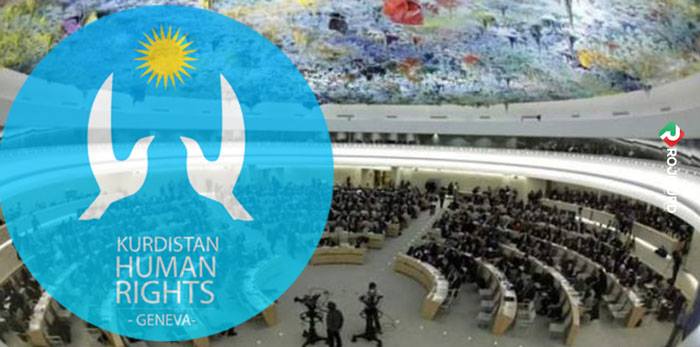 The Association for Human Rights in Kurdistan of Iran-Geneva (KMMK-G), the International Educational Development   and the Association of Humanitarian Lawyers wish to draw the attention of the Council to the continuing repression of freedom of expression and association by the Islamic Republic of Iran, especially against people in the Kurdish region.
 Monsieur le Rapporteur,
The Islamic Republic of Iran continues to severely restrict freedom of expression, association and assembly. The authorities continue to block Facebook, Twitter and other social media platforms, limiting access to information. Journalists and online critics are imprisoned and peaceful protests are suppressed especially in Kurdistan.
Today, Iran detains more than 1,150 political prisoners according to our data, 500 of them belong to the Kurdish minroity and many of these prisoners are sentenced based on vague charges of 'spreading propaganda against the system' which applies to any critcism of the state and  'Mohareb' (the imaginary crime of enmity against God).
The unjust convictions and treatment of Mr. Mohammad Seddigh Kabudwand, an Iranian Kurdish human rights defender and journalist, who is wrongfully serving a decade-long prison sentence based on the fabricated charge of spreading propaganda against the state exemplifies Iran's utter disdain for the rights to freedom of expression and association.
Mr Kabudwand once again went on hunger strike from 8 May to 9 June of this year to protest against the authorities' ill-intented efforts to sentence him to even further imprisonment, based on yet another spurious charge of 'spreading propaganda against the system' from inside the prison. The month-long hunger strike aggrevated the health issues he has been suffering in the prison, including heart and kidney disease and an enlarged prostate.
We ask the Special Rapporteur what he intends to do in regards to the situation of Mr. Kabudwand and other political prisoners in Iran? Does he intend to issue a standalone statement on Kabudwand with Dr. Shaheed the Special Rapporteur for Iran?
Finally, we call on the Iranian authorities to stop toying with Kabudwand's life, to drop all the charges against him, and to release him immediately and unconditionally.
Association for Human Rights in Kurdistan of Iran-Geneva (KMMK-G)
Comments
comments